Walking on to the future
Senior commits to play football at Nebraska
On Nov. 5, 13 Millard West students signed their letters of intent, officially commiting to the college of their choice. Among this group was senior Evan Meyersick, who committed as a walk-on to play football for the University of Nebraska-Lincoln. 
Meyersick decided to play football during the end of his sophomore year and has since been putting in countless hours of work to develop his skills as a wide receiver. During his time as a member of the Wildcat football team, Meyersick has racked up a total of 13 catches, 244 yards and one touchdown.
"I went up to coach Sadowski and asked if I could play and they gave me a shot," Meyersick said. "I proved that I could handle myself out on the football field, so I'm grateful for them giving me that chance."
Meyersick's family always thought he'd commit to a school for basketball, as he's been playing the sport since he was in third grade. With his future in mind though, Meyersick chose to continue playing football. His coaches helped him transform his strengths in basketball into useful skills on the football field.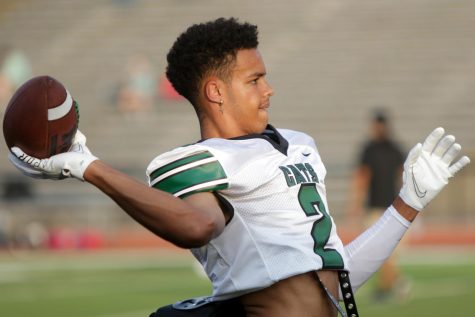 "The first thing that we worked on was trying to show him how basketball skills translated to being a receiver," wide receivers coach Nick Uy Bico said. "The idea was that I wanted to make it as easy and seamless as possible, and say, 'you know what, a lot of your basketball skills transfer to being a receiver.'"
While he plans to study engineering in college, Meyersick believes that Nebraska gives him the best opportunities to choose his own path academically and athletically. 
 "I think that Nebraska, academically, really fit what I want to do because I want to go into engineering, and they have a good engineering school," Meyersick said. "I also think that Nebraska will allow me to play against some of the best and expand my potential. My parents think Nebraska was probably better for me because academically I like to be challenged a lot and they think that Nebraska gives me that opportunity."
Meyersick's parents have backed his decision to play football at Nebraska despite his history as a basketball player.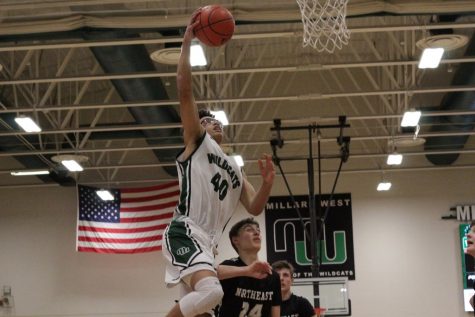 "We were a little bit surprised because he had played basketball his entire life, so he had a lot of time invested in the sport," mother Renee Meyersick said. "His sophomore year we asked him if he wanted to try football, and he loved it…I  just hope he can achieve all his dreams, and things work out for him. He's going to have to work hard to get where he wants to go."
While football has been his main focus, the power forward turned wide receiver continued to play basketball in the summers. After a while, though, he said he started to get burnt out. Basketball, in his opinion, is a great deal harder on the body than football, which influenced his decision to attend Nebraska as a walk-on.
"Being a walk-on, you're going to have to work hard regardless, but you're kind of fighting to be on scholarship," Meyersick said. "I'm on the team, but I'm not necessarily guaranteed to see the field at all. I just need to prove to them that I can play, and hopefully make it on the field someday."
It's no doubt that Meyersick's determination and work have gotten him far, and will take him even farther as he joins Millard West graduates Brody Belt (wide receiver) and Baylor Brannen (defensive lineman) at the University of Nebraska.