After getting their big break in a rendition of "Frozen," the Broadway musical, juniors Natalie Kersten, Brykin Jones and Sophia Bartlet have the chance to shine on a stage larger than a high school auditorium. Following the production's three shows, this trio was beloved by the audience as they reimagined Hans, Anna and Elsa; fictional characters in Disney's "Frozen."
Originally, each school participating in the United States of "Frozen" contest had the opportunity to send in a video explaining why they should be the only school in their state to get the rights to the musical. Each school participating in the contest also recieved the chance to send one representative to sing in a chorus on Good Morning America. Following the success of the musical, not one but three students were chosen amid the handful of other talent alongside them. 
Students heading to New York will be leaving on Nov. 26, performing on Nov 27, and coming home on Nov. 28. Although the trip is rather short, students will be singing a version of "Let It Go" alongside the 2023 Jimmy award winner, Lauren Marchand. Preparing for the musical ahead of time gave an advantage to the performers.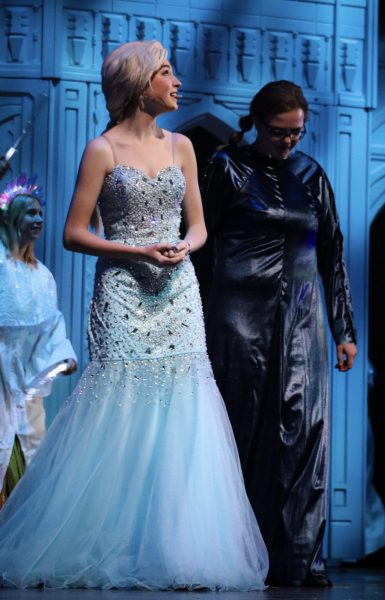 "It feels great to be chosen to go to New York," Jones said. "We've all put so much hard work into the performance, and getting to spread "Frozen" across America is going to mean a lot to everyone in the play. Our performance is in Times Square, and all three of us have had Zoom rehearsals beforehand to save time in New York."
Not knowing if Kersten would be able to attend the trip to New York, her own family and friends set up fundraisers and gave donations in hopes of launching her stardom to the next level. 
"My mother set up the GoFundMe because the trip is very expensive," Kersten said. "After 39 donations and a $2,500 goal met, both my mother and I get to experience something special together. Being able to work with ACP students and form friendships with them has been such a rewarding experience, and I need to share that across the country."
Coming from the drama department, their art may not be recognized as often as an athlete, scholar student or a student in the band. Since "Frozen" was such a once-in-a-lifetime opportunity for the high school stage, coverings of this story by various news outlets gave the department a chance to shine like never before, opening possible jobs for the future.
"I am absolutely thrilled for any opportunities my students have to showcase their talents and make life-long connections," drama teacher Brooke Phillips said. "Networking is a gigantic part of a career in the arts, and this is one small step in the right direction for these three students and hopefully others later on."
This particular "Frozen"-frenzy had a great impact on high school students, the community and individuals with special needs. The planning behind such a special performance brought inclusivity inside the high school walls and created windows of opportunity for many students with undeniable talent.