Larger than life artwork
Senior displays impressive painting skills through action filled canvases
Hang on for a minute...we're trying to find some more stories you might like.
Throughout the Green Mile, works of art line the halls, each conveying a different message to the viewer. The glass display cases, as well as the art rooms, hold some of the most detailed and elaborate pieces, created by students in advanced art classes.
However, some of the most eye-catching pieces have been brought to life by senior Adrian Judson. After being asked to select a prompt for the Advanced Studio class, Judson settled on the topic of sports, which has been the main inspiration for these paintings. Many of them depict action shots and are painted on large scale canvases, with
an immense attention to detail. But what started out as a class project soon turned into a friendly contest with his friend, senior Parker Brown.
"I think that his style of sport realism has gotten me into drawing more studies," Brown said. "But we really impact each other's art. For example, we like to joke in a playful way and kind of see which person's art is getting looked at the most. It's interesting to see because of the drastic style difference."
Although Judson's paintings do take a large amount of time to complete, the result is absolutely worth it. The
attention to detail and the effort used to create these pieces really shows when inspected further. Judson also feels a great sense of accomplishment when displaying his pieces to the public.
"When people come and look at my art, I want them to stop and see all the time that went into a piece," Judson said. "I put so many hours of work into what I do, definitely more than other people in my class. I want to show people even though I'm still just starting out, with practice and dedication you can build up to doing these extravagant things."
Judson has developed his art throughout high school and has experimented with other areas of the subject. He has taken almost all of the art classes offered including Advanced Pottery, Advanced Drawing, Graphic Design and Digital Design. Judson has also worked with a wide variety of mediums, but has proven skilled in the areas of colored pencils and acrylics.
"The aspect of realism has improved greatly, details included in drawings that other people might just ignore," art
teacher Jennifer Hoss-Miller said. "But within the realism I've also seen some expressionism come out, allowing brushstrokes be brushstrokes and not needing to blend everything together perfectly.  It's more a sense of becoming comfortable with oneself and a willingness to grow and learn from mistakes."
Armed with this vast high school knowledge, Judson would like to pursue a career in the art field and attend Kansas City Art Institute. After displaying exceptional skills in the realism style from an early age, Judson would like the
main focus of his career to be centered around that particular area.
"I really got into art around the seventh or eighth grade and really wanted to focus on perfecting drawing people," Judson said. "The idea that you can take a physical image of someone in real life and then turn it into a drawing is fascinating to me. When you're working on something and then it just starts to come together, that feeling is just really awesome."
Though Judson mainly does realism, his social media (@_sketchyboy_ on instagram) displays other pieces that he has done over the years in a variety of different styles and mediums. Some contain small, detailed sketches of self portraits, while others are larger, more elaborate pieces with a central theme. One of the pieces depicts two figures with dragons placed behind them, another shows a detailed drawing of the soccer team from last year.
With goals of attending Kansas in mind and a paintbrush in hand, Judson plans on using this talent to inspire others to reach for higher goals in their art. He also hopes that with this college education,

About the Writer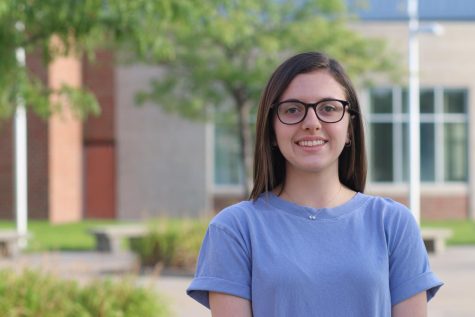 Chloe Parker, Staff Reporter
Chloe is a junior and in her second year of Advanced Journalism. She has enjoyed writing from a young age and loves being able to tell the stories of students...