Leaving a legacy
A senior has been working hard the past two years building Millard West's Striv program
Students and parents cheering in-person at live events are accustomed to the sound of sneakers squeaking on the hardwood, the thud of a player being tackled hitting the ground and the loud slapping of a hockey puck. But those fans at home watching Millard West games, primarily because of the pandemic, know a different sound — the familiar voice of senior Jon Willis.
Ever since his junior year, Willis has been commentating sports for Millard West Striv Channel — the journalism team's livestream service. From basketball to football to hockey to wrestling and baseball, he has commentated nearly 45 games this year alone, pouring in hours of work in class and after school. The decision to begin his high school commentating career, however, brought him face to face with a difficult choice.
"The summer between my sophomore and junior year, I had pretty recently quit football," Willis said. "It was a hard decision for me to make, but it was the right decision. I didn't want to leave sports because sports had been such a big part of my life. I reached out to [journalism adviser Mark] Hilburn over the summer and asked if there was a way I could get involved with Striv. They brought me on, I did the first football game of the year and never looked back. This was something I knew I was meant to do."
And after that decision, Willis has worked tirelessly to ensure Striv provides a great experience for those watching from home. During his busy schedule, he not only reaches out to coaches before games for interview questions and roster names, but also he spends his time in class improving the livestream any way he can, whether that be designing graphics or researching teams.
"Jon is very much a self-starter and took a lot of the responsibility upon himself," Hilburn said. "He watches back a lot of his livestreams and critiques himself a little bit. He was instrumental in doing the research when we got new equipment this year; he has spent time learning Wirecast in and out. He cares, and that makes it easier for me because I don't have to worry about the livestream as much, especially if Jon is going to be there."
To prepare for livestreams, Willis will design new scoreboards, research opposing teams, make sure everyone participates in at least two livestream events each semester and check all of the equipment. However, when he arrives at a site, it is his time to take over. From setting up cameras, the livestream service and connecting headsets to talking with coaches before the game, giving his fellow commentators necessary information about each team and filming pre-game shows, he ensures the people at home watching will have the best experience possible. Not only does Willis work on Striv, but also he has his own podcasts and works on his weekly assignments for journalism.
"It can be tough sometimes," Willis said. "I did eight games in three days this week, so that meant I had to learn 16 different rosters. It can be tough, but I've done it for a long time now I know good strategies to manage and prepare. It's sometimes difficult to manage, and you have to be willing to put in some extra hours at home studying, but I really love doing it because I want to make sure I'm sounding the best, pronouncing everything the right way and putting out the best possible commentary for our streams."
That desire to become one of the best commentators pushed Willis to commit to the University of Nebraska-Kearney late last year. He has already started making connections with Lopers to start his future journey early and get started on his end goal of becoming a professional sports commentator on a major network.
"They have a really good radio station, 91.1," Willis said. "I took a college visit down there, I got to see the station and the different sports venues they have. For me, the best thing you can get in this job is to just get experience. I felt like at Kearney I had more of an opportunity to get experience early. I just knew I would be able to start calling games early."
Though Willis looks to his future, he is still making an impact at West, especially his classmates in journalism.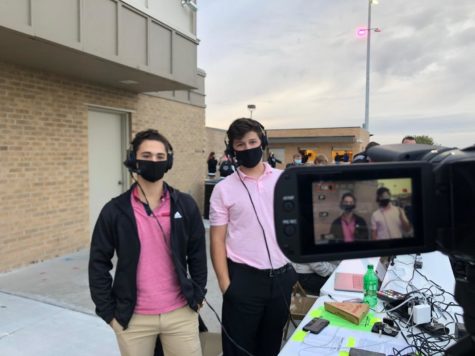 "Jon is a great leader," junior and co-commentator Miguel Paredes Reyes said. "He has boosted our Striv to unimaginable levels. He's an expert, he does a lot of research and has made videos for how to set up equipment. He's someone I'm definitely going to look up to next year when I'm in charge of all that stuff."
As Willis leaves in May, he leaves behind a legacy of leadership, hard work and perseverance. His contributions have transformed the livestream into what his adviser and peers consider special, and at Kearney he hopes to continue to leave that lasting impression.