AP students argue undecided Supreme Court case
Government and Politics classes weigh in with their own rulings
While most classrooms are taking notes from a PowerPoint slide or completing worksheets and assignments, the students in Alyssa Watson's AP Government and Politics classes are taking on a different type of project: arguing a Supreme Court case. 
Watson, a social studies teacher, has been using this activity in her class for two years as a way for students to learn more about the process a case goes through in the Supreme Court while also creating and tweaking their own arguments.
"The objective is to understand the role of the Supreme Court in determining the constitutionality of a case rather than argue the facts of the case," Watson said. "It's an important activity because it gets the students to think critically about the amendments and cases and be responsible for their own learning. Actively engaging students in their learning is always a goal of mine."
The activity was focused on a currently undecided case, Torres v. Madrid, that was argued before the Supreme Court in October. The case is based on what constitutes a seizure in context of the fourth amendment of the Constitution, which prohibits unreasonable searches and seizures.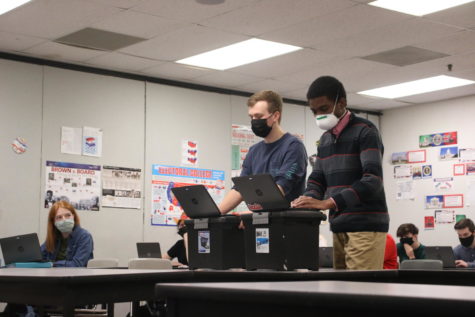 Students were given one of four roles. There were nine Justices, a Court Marshal, and then either Petitioner, who sided with Torres, or Respondent, who argued in favor of Madrid. The petitioners and respondents were given three days to build an argument around the information they found while the Justices prepared to question each party. Oral arguments were held on Friday, March 5, and were five minutes in length followed by a two minute rebuttal. 
"Since we were the petitioner in our group, we argued that the police did use excessive force against Torres, and that she did not know she was being approached by police until the bullets did cause her to stop," Senior Jordan Bakar said. "We also brought up a similar supreme court, California v. Hodari D., which emphasized our point that seizure means the laying on of hands or physical application to prevent movement even if it is ultimately unsuccessful."
In 2014, Roxanne Torres, the Petitioner, was involved in an incident with law enforcement while she was driving a vehicle under the influence of methamphetamines. While attempting to get away, two New Mexico State police officers, Janice Madrid and Richard Williamson, fired their weapons and injured Torres. In 2016, she filed a civil-rights complaint in federal court against the two officers, alleging claims including excessive force and conspiracy to engage in excessive force. In the Court's view, the officers had not seized Torres at the time of the shooting, and without a seizure, there could be no Fourth Amendment violation.
The ruling deferred throughout each class. The first and fourth blocks sided with Torres, while third block sided with Madrid. 
"How convincing the teams were in their oral arguments definitely made a difference," Watson said.  "Also, I think some classes truly understood the constitutional question at hand."
Following their research and arguments, the AP Government and Politics students are able to follow along with the case as it will receive an official ruling from the Supreme Court this summer.