Hard Work pays off for Forensics team Co-President
Senior named Academic All American by Speech and Debate Association
Last month, senior Forensics team member Emma Cavalier was named an Academic All American by the National Speech and Debate Association. She met the requirements by maintaining a minimum grade point average of 3.75 and earning 750 NDSA points from competitions, both exceptional displays of her commitment to succeed in academics and Forensics.
Cavalier has been involved in forensics since freshman year, where she first found her passion for speech and debate. She now holds the position of Co-President, a role once filled by those who she looked up to.
"As a freshman, I looked at the varsity on the team and viewed them as driven, well-spoken individuals," Cavalier said. "With hard work and dedication, I am now one of them." 
Becoming an Academic All American wasn't easy. Not only did Cavalier maintain a solid GPA, but she consistently finaled in events on both the local and national levels, demonstrating immense academic and competitor strength. She was a quarter finalist at MASQ, a national tournament that took place last year. Because of this and more, head forensics coach Jenifer Jerome felt compelled to write Cavalier a letter of recommendation for the award. 
"The NSDA has a Student Code of Honor: Integrity, Humility, Respect, Leadership, Service," Jerome said. "Emma fulfills all of these qualifications as not only a competitor but as a person."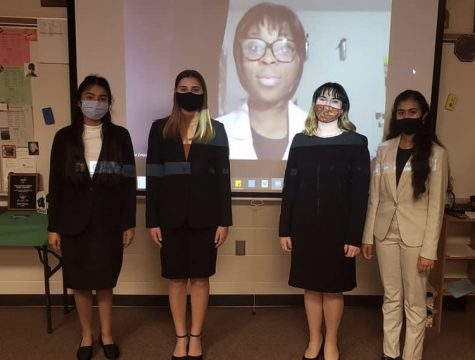 Cavalier's four years with the Forensics team has built her character and confidence and even provided her with a group of students on a similar path as her.
"One of my biggest takeaways from speech and debate is finding my own voice," Cavalier said. "For a long time, I struggled with believing in the impact of my voice. But, by gaining an immense amount of confidence from forensics, I am now able to speak on topics that I otherwise would have cowered away from."
After graduation, Cavalier plans on attending the University of Nebraska-Lincoln with a focus on pre-law where she'll be able to bring her talents and voice to the Cornhusker Forensics team. She credits her involvement in speech and debate with helping her find her voice and teaching her the importance of confidence, inclusion and dedication
Now, her name is engraved on a plaque in the Forensics room next to the Millard West Academic All Americans that came before her, a constant reminder for students who follow that they too can find their voice.