Musical marvel
Music acts as a popular extracurricular for students. While many join the band, choir or orchestra to pursue their high school hobby, senior Dominic Zohlen seeks music away from the school environment.
Dominic's musical interest started when he was in elementary school. He learned a few songs on the guitar and piano, but moved on to other interests such as taekwondo. A few years ago,  his interest was sparked again after watching "The Greatest Showman." Dominic realized he could listen to a story and play it on the piano just by ear. 
"I became obsessed with the soundtrack," Dominic said. "In particular, the song 'A Million Dreams.' One day I sat down at the piano at our house and figured out how to play the song. Several months later I was trying to play a song, but was having trouble placing the chords, so to help myself I sang the chorus. When my parents heard me, they were in shock."
While Dominic's parents knew he was special, they did not know about his newest talent: singing. Upon hearing his voice, his parents were blown away and knew right away he had a gift to share with others. 
"Dominic has always been a very curious, independent learner," Dominic's mother Maureen Zohlen said. "He likes to move at his pace and is a sponge when it comes to things of interest. He has had evolving and changing interests over his life, and when he masters something to his satisfaction, he moves onto something new to keep his mind engaged. I believe his musical interest, however, is something that is going to stick as he is constantly challenged with something new when it comes to music." 
Ever since, Dominic has been practicing daily to take his music to the next level. As his interest progressed, thoughts started circulating about one day performing. Luckily his job at the Walnut Grove retirement home as a server provided the perfect opportunity for him to kickstart a new pastime.
"I mentioned to the receptionist at the retirement home that I was interested in playing music and maybe even performing one day," Dominic said. "She told me that the residents would love to hear me perform. She was nice enough to talk to the activity coordinator there and recommend me as a performer, and so now the first Saturday of every month I go to perform my music for the residents."
Since residents aren't able to get out much due to the times, they appreciate listening and Dominic feels as though his music isn't going unnoticed. 
"Dominic plays a lot of songs they know and love," dining room supervisor Katherine Hoffmann said. "They even hang around when they are done eating to listen to him perform and some ask me when he is performing next because they look forward to it."
In addition to the application of his newfound knack at nursing homes, Dominic has started writing, producing and uploading his own music for others to enjoy. He uses platforms like TikTok and YouTube to express his creativity. To obtain more knowledge on music, he also enrolled in Music Theory and AP Music Theory this year.
"When writing a song, the first thing that usually comes to me is a short melody or motif that I expand into a song," Dominic said. "Then I begin recording the instruments and vocals into Reaper to produce the song. It may not seem like it, but recording and mixing vocals is an extremely complicated process that usually takes me weeks to do."
Dominic starts with the melody of the song and after he thinks of lyrics based on how he feels when listening to the melody. He then takes several days to play it, tweak it and memorize it. Recording tends to be the most difficult part of the process as he puts it all into Reaper, a digital audio workstation. 
"I use equalizers, compressors, de-essers, reverb, pitch correction and many more effects on my voice to make it sound like a modern pop vocal," Dominic said. "Once all of the mixing and producing is done, I bounce the audio as an MP3 and show it to my friends and family before putting it on the internet, just in case they hear anything out of place that I didn't hear before."
Many people consider his voice euphonic. Dominic uploads his music on YouTube and TikTok. While he only has one original song uploaded to YouTube right now called "Walk in the Moonlight", inspired by songs from artists like Michael Buble,  which has generated positive and encouraging comments. His TikTok has numerous followers who also support Dominic's music. 
"I often make live streams on TikTok where I sing and play the piano," Dominic said. "Usually dozens of people show up to listen to me. There is a cool feature on TikTok where you can send money to the host of a livestream if you enjoy what they are doing, and often there are several people out of the dozens listening that are generous enough to send me money."
You can find Dominc's music on his YouTube channel and TikTok "Dominic Zohlen".  His zeal for music continues as he constantly learns new songs to play and sing as well as creating his very own.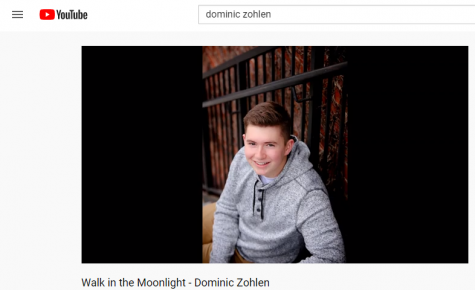 About the Contributor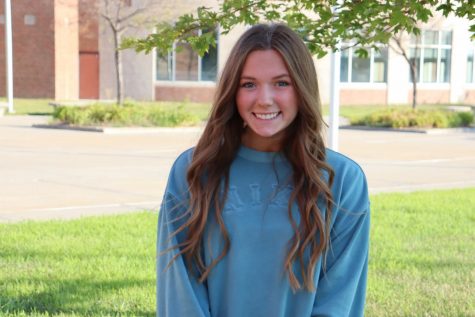 Jenna Reynolds, Features Editor, co-anchor MWHS Wildcat News
Jenna is a senior at Millard West and this is her second year on the Advanced Journalism staff. Her favorite part of Journalism is filming and editing...