All state all star
Senior participates in All State orchestra for four years
It is a great honor to be selected to be a part of an exclusive group, and for senior Luke Skrabal, this is nothing new. For his fourth consecutive year, Skrabal has auditioned and been selected to be a part of the Nebraska All-State Orchestra. All-State orchestra is an ensemble of musicians from all across Nebraska who come together to learn more about their craft and perform.
Skrabal's interest in orchestra began in the fourth grade when he first picked up the violin. Ever since then he has continued to grow as a musician. Being a part of the All-State Orchestra has offered Skrabal an exclusive opportunity to learn from some of the best. 
"I started playing the violin simply because it was the cheapest and smallest string instrument available," Skrabal said. "I planned on stopping after a year but I fell in love with playing the violin, and it takes up a considerable amount of my time and attention today." 
This year due to the COVID-19 pandemic auditions for All-state had to be different from the past. Skrabal along with all the other students auditioning had to record an etude, an excerpt from major orchestral work, and scales. They only had one chance to record, as if it was an in-person audition, there were no do-overs. 
"Every rehearsal of All-State is a learning experience," Skrabal said. "Not only do students learn about creating a unified sound or crafting musical phrases under a phenomenal conductor, but they also get to interact and learn from fellow musicians from across the state who bring their own technical and musical perspectives. Put simply, I have become a better musician because of All-State and the lessons created by the experience"
COVID-19 did not only affect the audition process but every aspect of the All-State Orchestra had to look different this year. To enforce social distancing guidelines, everything they do has to be virtual.
The orchestra had to find ways to work around the COVID restrictions. The All-State Orchestra is still able to perform virtually. Musicians send in videos of their individual performances then they are edited together to make a full orchestra performance. The videos are then edited together to create a full orchestra recording. Although Skrabal feels honored to be a part of the orchestra, it can at times seem like a lot of work with few rewards. 
"A major blow musicians like myself have faced this year due to COVID is the lack of performances," Skrabal said. "Although some groups are able to put on live concerts, all of my orchestras have opted for virtual or no concerts."
On the bright side of things, quarantine offered Skrabal plenty of time for practicing. It also gave him a once in a lifetime opportunity to compete in an international orchestra competition. The Unionville Music Competition is normally held in Toronto but this year, luckily for Skrabal it was held online. Because the competition was held fully online he was able to participate without leaving his house. 
As the school year slowly creeps to an end Skrabel hopes to continue his musical career into college. 
About the Contributor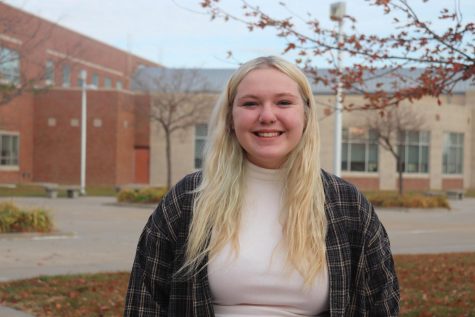 Annabelle Harshbarger, Staff Reporter
Annabelle is a junior and this is her second year a part of the journalism staff. She enjoys writing opinion stories and creating broadcasts. When she's...