Guided into new arts
Sophomore is part of a special mentoring program for art
When the school bell rings at the end of the day, most students either go home, to a club or to work. For sophomore Abby Gilreath, she makes her way to downtown Omaha two days a week where she is part of the Kent Bellows Art Mentorship Program.
Gilreath applied to the mentorship program and started at the beginning of her sophomore year. The Kent Bellows mentoring program is offered through the Joslyn Art Museum. It encourages teenagers to explore and create art in new ways. The program is offered to any teenager that is willing to apply. It offers a diverse arrangement of different art classes that include painting, fashion design and ceramics.
"Kent Bellows is a small mentoring program where we get small groups of kids together and we choose what class we want to take," Gilreath said. "I took printmaking and am in weaving and textiles right now. I am trying to take classes that are not offered at Millard West."
Kent Bellows was a famous artist born in Nebraska and died in Omaha in 2006. The classes and mentoring takes place in his apartment. The students are guided by their mentors to enhance their skills. 
"We all work on individual projects in our classes," Gilreath said. "They teach you the basics and then you get rolling and the mentors help you along the way, they are there to provide you support."
Gilreath has had a passion for art for many years. She is very involved in the program as well as the art program at Millard West. She also does private lessons outside of both Millard West and Kent Bellows.
"She does private lessons so she has a big art background, that many other kids don't have," art teacher Jennifer Hoss-Miller said. "Kent bellows allows her to explore different material that Millard West doesn't offer-like screen printing. She is learning about weaving and dying fabrics and this helps her move on into more art classes and gives her more background to allow her to be more successful as she moves on in art."
  Gilreath is on track to take Advanced Studio her senior year. She is also going to continue to stay in the Kent Bellows program until then. Gilreath has learned a lot from the program and hopes to learn and explore more as she continues.
"It teaches patience, determination, hardwork and that mistakes are okay," Gilreath said. "It inspires you to think more critically and just helps with life in general. It has taught me so much."
Once you have made it into the program you do not have to reapply for future years. Gilreath encourages other highschool students interested in enhancing their art passion to apply for the program.
About the Writer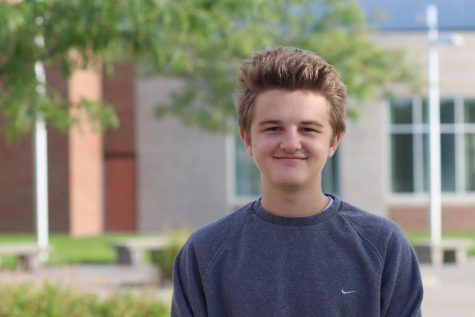 Logan Berggren, Features Editor
Logan is a senior and this is his first year on The Catalyst staff. He enjoys writing Opinion and Feature stories. When he is not writing, he is out taking...