Honor Choir Takes on Europe
Two Millard West Students Perform in Cathedrals Across Europe
Hang on for a minute...we're trying to find some more stories you might like.
From the quirky provinces of France to the crystal clear lakes of Switzerland, the sounds of choral music spread across Europe this summer. Two students from Millard West had the incredible opportunity to travel across these landscapes this summer with the UNL Honor Choir. Hopping from cathedral to cathedral, these singers got to perform for the masses.
Junior Lily Manthey and senior Miakoda Seuss were among two students that were selected to be a part of this group. As a part of the Honor Choir, they had the opportunity to stay in Europe for two weeks and perform in some of the most famous cathedrals around the world. While learning about music, they also were experiencing different cultures everywhere they went. The countries they went to included France, Germany, Switzerland, Italy, and a quick stop in Austria. Getting to travel from country to country was an incredible experience that showed them similarities between different cultures no matter where they went.
"The most rewarding part of the trip was when we sang in masses, people would come up to us after and were amazed at our singing," Manthey said. "Although they spoke a different language and we didn't know what they were saying, it made us all feel really good."
The vocals were breathtaking with the intense rehearsal process and the selective audition process. Because Millard West has a very prestigious choir program, UNL Honor Choir allowed any Millard West choir member who wanted to participate to join the group. Manthey and Seuss decided that they would take advantage of this once in a life-time opportunity that awaited them. Once the Honor Choir was established, they traveled to Lincoln where they learned 13 songs in the matter of two days. It was an intensive rehearsal process, but the rehearsals ended up being well worth it.
"Our performances weren't that much different from rehearsal, but we helped people spiritually along the way," Seuss said. "That's why I sing. By singing in lots of cathedrals, we helped people along their spiritual journey through music."
From this experience, Manthey and Seuss have learned a lot more about music through working with top notch choir directors such as Peter Eklund who was named one of the quarter finalists for the first-ever Grammy National Music Teacher of the Year. By working with and receiving training from these people, they were able to gain skills that they wouldn't have learned at Millard West. Now, they are becoming leaders in the choir department by spreading their new knowledge to others.
"I worked with six successful directors and they all have their own things they teach," Manthey said. "I was able to gain other skills that I wouldn't have learned from Millard West, and I can spread it to other members of the choir department."
While learning everything from how to properly read music to how other cultures are similar to American culture, the Honor Choir students had the summer of a life-time. Tracking all across Europe, they performed in some of the most gorgeous cathedrals in the world. It will definitely be a summer to remember for these two who now have a much deeper appreciation for choral music.
About the Writer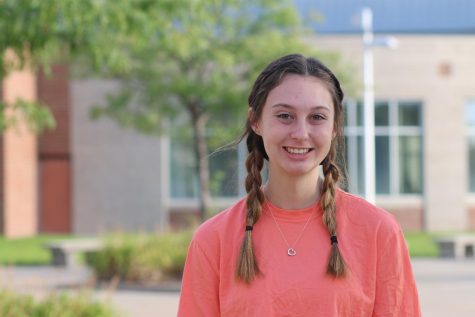 Anna Blumenthal, Staff Reporter
Anna is a junior and this is her first year on the Advanced Journalism staff. Her favorite articles to write are Opinion and Entertainment stories. She...