Senior paints her way to the public
Senior Makayla Reavis has been doing art her whole life, but she really hasn't stepped in to the public aspect of it. She was a part of "Lisa's Art Gallery" which was where she was doing art around other young artist. Last year Makayla won the "Young Artist Award" and with all this experience and accolades it was time to show off her work to people.
On Friday April 5th, Makayla brought out all her art work she has been working on this past year and took her talents up to Lincoln, Nebraska, in the Haymarket. The gallery she put her pieces in was called Noyes Art Gallery.
This is an event that is held every year now on the first and third Fridays of April. This is where many artist, who are invited, take their work and put it up for the public to see and purchase. This gallery isn't the biggest so it was a lot of work in one packed area. There were also snacks for the public as many came in and out to witness these amazing pieces.
"My mom's aunt has been in this gallery for some time now and she recommended me to be in it," Makayla said. "A few days later and the owner contacted me and she said she loved my work and wanted me in the show."
This was a big step for Makayla putting her stuff out there because she hasn't done that yet. After winning the "Young Artist Award" a year ago this was a big step in her career.
"This was a really cool opportunity for me," Makayla said. "Just the fact that I get to display my work at a gallery and get my name out there is really huge to me."
Makayla had a total of seven pieces in the gallery with six being acrylics and one being watercolor. Right at six o'clock the place started to have people come in, and this gallery wasn't huge so this place packed up quick.
"I would be lying to you if I said I wasn't overwhelmed," Makayla said.
For the first hour a lot of Makayla's family and friends came in to support her at her first art show as she took pictures with them and they complimented her work.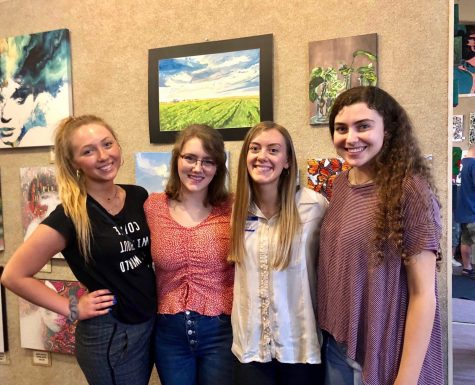 "I'm very proud of her because I remember when she was in sixth grade and would always show us the art she made for her classes and her face would light up because she loves art," friend and senior Alex Taylor said. "I know she will continue to grow from this as an artist and be loved and admired for her artwork even more than she will today."
Then all of a sudden another artist walked up to Makayla's wall and picked up her desert painting and just said 'I want this'. Just like that Makayla sold her first painting of the night.
"It happened really fast when she just came and bought my painting," Makayla said. "I was like are you sure you want it, It was cool to sell that first one though."
Makayla's mom Suzy Reavis was right there when Makayla sold that painting.
"It made me very proud when she sold that first piece of artwork," Suzy said. "I did have a weird feeling seeing someone else walk with away with her artwork tho since she worked hard on that for this show."
By the end of the night Makayla sold one more piece in her butterfly one and which her own cousin bought it.
"When I was going in I wasn't expecting to sell any pieces," Makayla said. "It made me feel very happy with my work seeing people complimenting my pieces and some buying it, and I was surprised when my own cousin wanted my piece, but It was cool to see it."
Overall it was a good night for Makayla  who was able to make close to $300 dollars that night. Her work will be at the Noise Art gallery the whole month with another show coming up Friday. Now to look more in depth with each piece at the show.
The first painting she put in the show was the "FarmHouse" priced at $70.
"This was the first one I worked on because I wanted at least one watercolor piece and I can do them pretty fast and easy," Makayla said.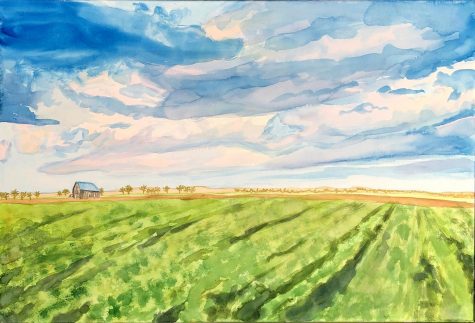 This was her "House Plants" painting priced at $140. "I wanted to get a acrylic in the gallery and do a still life of plants," Makayla said. "I have never really painted anything with glass in it so I wanted to test what I can do for this piece.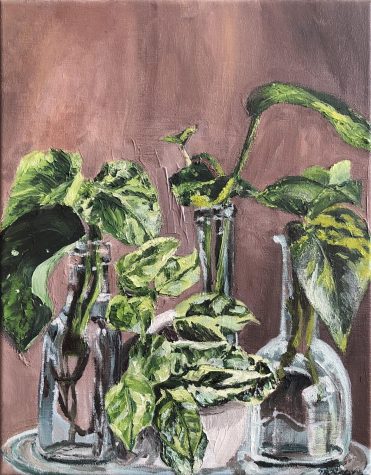 This was her "California coasting" one of the first ones she worked on showing off a Mustang on a summer drive where the sky is blue with the reflection of a palm tree in the back window.
"On this piece I wanted to focus on the color aspect of it has a whole piece," Makayla said. "I also wanted to work on that reflection of the palm tree."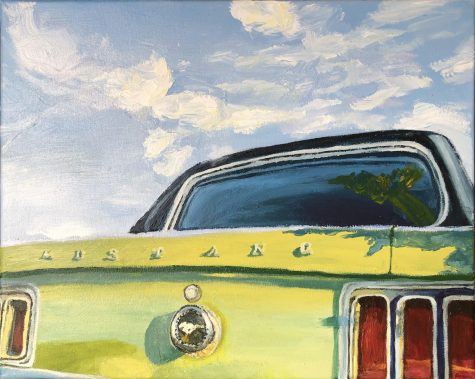 This next piece is her "Kaleidoscope" one of the pieces she sold at the show is a cook look at a "3D" style painting where it feels the butterflies are popping out at you.
"I really wanted to do a painting that had contrasting colors and be dramatic with the shadows," Makayla said. "I wanted to put complementary colors in this one."
This piece is the "Sunny Afternoon"priced at $185, where it is a lady that is out on a landscape where she is covering her face.
"I wanted to do painting where I was doing a figure, and I like that she is covering her face so it is not specific to the person buying it," Makayla said. "I also wanted to experiment with this kind of landscape and get to the nitty gritty with all the detail."
This next piece was her "Tetons" and one of the cheaper ones at $85 where it shows a really cool landscape with colors popping out at you.
"I was inspired by a picture we took at Yellowstone on vacation," Makayla said. "This is one I did over the summer before I even knew about the show so I was glad I could put a good landscape painting in there."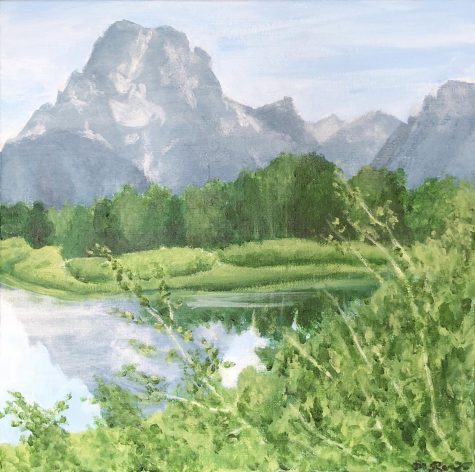 One of the most impressive paintings at her gallery the "Sonoran Desert" was picked up off her wall first and you can see why. All the detail that was put in to this painting in a short time is mind blowing and a great piece to have in a home.
"This painting has a good story behind it because it was the last piece I did and got it done the day before the show," Makayla said." When I got the the gallery I had room for another painting so I 'rushed' and got this painting done and was glad I sold it right away.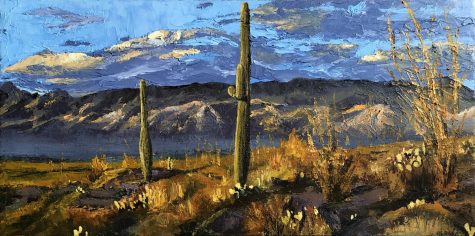 If you are interested in buying these paintings you can go to the next event this Friday, April 19th at Noyes gallery from 6p.m. – 8p.m. or call (402) 475-1061 if you have any further questions. This was only a step for Makayla as she will be going to the University of Nebraska-Lincoln to continue her art career and she can't wait to see where she goes to next.