Hobby Turned Career
Senior gains experience through internship at a local theater
Hang on for a minute...we're trying to find some more stories you might like.
Changing costumes at the speed of light, touching up makeup like a professional and remaining calm in utter chaos are all things that are considered usual to performers in the theater. The only thing that could be considered more difficult than handling backstage as a performer is taking on the task of controlling the chaos as a director. This is the exact challenge that senior Breanna Mack has accepted at her internship at The Rose theater.
Mack has been involved with the performing arts ever since she was in the sixth grade. The first show that she performed in was The Little Mermaid. Fast forward through two years of classes, camps and a lot of practice and Mack played the a lead for the first time in Peter Pan as Wendy.
"My favorite part of theater is seeing and hearing how it affects other people," Mack said. "Theater has been such a huge part of my life so knowing that what I do can help others is really cool. Knowing that the thing that makes me happy can also bring joy to others makes it even more enjoyable."
One of the things that pushed Mack to take theater more seriously was a conservatory camp at The Rose theater taught by professional staff. After attending the camp for the first time in middle school, Mack returned each year to improve her craft. Mack's advisors had been so impressed with her talent and work ethic, that in June 2018 she was asked to return once again, but this time as a part of an internship program.
A usual work day during the school year for Mack begins early Saturday morning with setting up her classroom in order to teach a class of eager elementary students the fundamental skills to be successful in the theater. Each week brings on a different topic to tackle through games and discussions. During the summer Mack takes part in running a day long camp that includes directing her own show. After the camp Mack and other interns spend time working on their own skills.
"My favorite part about the internship is teaching and directing younger kids because they are getting involved with theater at such a young age and I wish that I had that opportunity," Mack said. " I think that it is rewarding to see them so happy to learn about these things. It also brought light to a new career that I didn't even knew I wanted to be involved in."
After spending time at The Rose, Mack showed changes at home that proved to her family she was improving,
"I would describe Breanna as a fun-loving, not afraid to reach for what she wants type of girl," father John Mack said. "After her summers at The Rose she really started to come out of her shell and now she has all sorts of theater friends from all over Omaha."
Mack's hard work is also evident in her presence and success in theater at school. She is a state representative for the Millard West Drama Board and has participated in every show going all the way back to when she was a freshman. Along her side the entire way has been her best friend, senior Brannon Evans.
"Breanna is probably one of the most hardworking and underappreciated people in our theater and choir department," Evans said. "She is also an amazing friend by always being there for you even when she is struggling with something herself. She knows how to have fun, but also how to get all of her work done."
Mack doesn't plan to stop after high school theater. With a dream of moving to New York to perform in shows, Mack is planning to major in musical theater at Missouri State University in the fall of 2019. After her experience at The Rose she is even considering continuing a career in teaching theater.
"Overall, my main dream is to be able to perform for the rest of my life," Mack said. "I would also maybe like to teach theater to younger students. Being able to do what I love for a living would be the biggest life accomplishment ever for me."
From teaching, to performing, to making long lasting friendships, theater has been the ultimate experience for Mack; an experience that she doesn't plan on ending. To a sixth grader in The Little Mermaid becoming a performer in New York may seem like a far-fetched dream. Now, after practice in her school theater program and at The Rose theater, that dream seems more like a reality to Breanna Mack.


About the Writer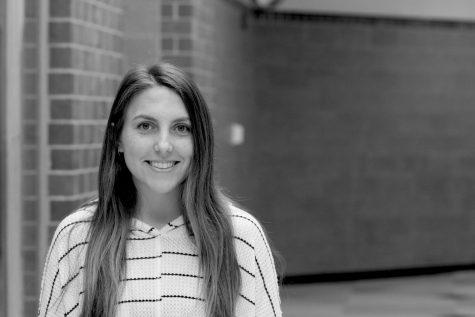 Taylor Hofbauer, Staff Writer
Taylor is a senior in her first year being apart of the CATalyst and MWHS Wildcat News Staff. Taylor is also in her second year on the Prowler Yearbook...