Hoops for Hope
Students from class boards work together to raise money for charity
Hang on for a minute...we're trying to find some more stories you might like.
Cancer is something that has affected everyone, but it is also something that everyone can work together to fight. After weeks of preparation, a group of members from the Junior and Senior Class Boards awaited one of their main event of the year; the Millard West vs. Millard South Hoops for Hope basketball game.
Basketball was not the only thing the schools were competing in. The Junior and Senior Class Boards from each school participated in a competition to see who could sell the most T-shirts with the incentive of winning the travelling trophy. Despite the competition, the end goal was to raise as much money as possible for the American Cancer Society. The money can help in many different ways including providing information to newly diagnosed patients, helping with side effects, lodging, rides and support. As the sponsor for Junior Class Board, Megan Mcenaney played a large role in planning the event.
"Putting together the event was a group effort between Millard West's and Millard South's Junior and Senior Class Boards," Mcenaney said. "Preparation actually starts in October with designing a T-shirt and brainstorming some ideas to spread the word about the event."
The competition resulted in Millard West selling 306 T-shirts which almost doubled Millard South's 150. In total, both of the schools raised $1,975. At halftime of the boys' basketball game both of the class boards presented the American Cancer Society representative, Hannah Stewart with a check expressing all the proceeds raised.
"I think that this is an amazing fundraiser," Stewart said. "The schools are able to raise money in a fun way for a cause that uses the money in a way that helps out in their local area."
The check was not the only thing presented at half time. The travelling trophy was given to Millard West represented by senior Chanley Forst to be brought back to the school for the second year in a row.
"I was nervous accepting the trophy because it was in front of our entire student section and Millard South's," Forst said. "But I think fundraisers like this one are great to get everyone involved and raise money in a fun way."
Despite the rivalry between the two Millard schools, students were able to come together to raise money for a good cause.

About the Writer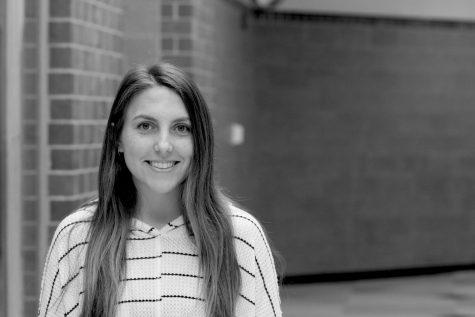 Taylor Hofbauer, Staff Writer
Taylor is a senior in her first year being apart of the CATalyst and MWHS Wildcat News Staff. Taylor is also in her second year on the Prowler Yearbook...