Love on a leash
Local organization brings therapy dogs into the classroom
Amidst finals week, two seniors worked diligently alongside the DECA department in order to bring therapy dogs into the classroom. The Paws for a Cause Event took place on Dec. 16, providing the opportunity for any student hoping to forget the stresses of finals to come pet a dog. 
Prior to the event, it took months of planning and preparation in order to create a memorable experience for the participants. And with the help from a local pet therapy organization, Pups With a Purpose, DECA's senior advisors were able to efficiently bring in a diverse group of canines to fit everyone's interest.  
"We've been planning this event for the last two or three months," DECA advisor Ashley Dworak said.  "With my help, our students were able to connect with Pups With a Purpose, a local organization that specializes in training emotional support dogs. Thanks to them we were able to bring in all kinds of dogs ranging from labradors to pit bulls, to golden doodles."
It started off as a project between the senior Marketing duo, Julian King and Sadie Kottich. They spent hours volunteering for the Walk of Animals, a National Honors Society event, giving out water and treats to hundreds of furry friends, in order to help promote the positive health benefits that animals bring. Later,  connecting with Pups With a Purpose, King and Kottich were able to bring their idea to life, and implement therapy dogs in the classroom.  
"With this event, we had two goals we hoped to accomplish," King said. "We hoped to increase engagement with local pet therapy businesses, and also increase positive mental health amongst students. I mean, it really just started out as an idea between me and my friends, and it's amazing to finally see it come to life and that people are appreciative of the event and the dogs." 
The event was a hit amongst students, as almost every one of the 30-minute time slots was filled. The library, usually a place spent cramming and studying, housed a much different dynamic, consisting of time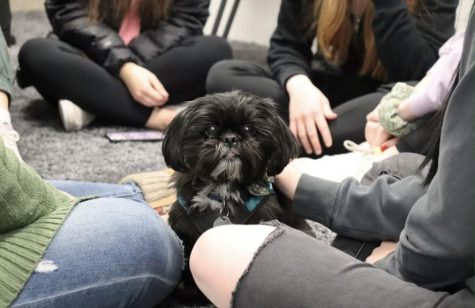 where students could just come and sit with the dogs and enjoy their company and their cuteness.  And after days of non-stop studying it was a time when anyone had the chance to decompress their stress.
"It was something that was very needed," junior Brooklyn Bartlett said. "The dogs came at the perfect time, because I was just finishing up some major projects for a few of my classes, and needed a time where I could de-stress. Seeing all the dogs and getting to interact with them positively impacted my day."  
Giving these students the opportunity to visit a 30-minute session with the pups not only gave them the opportunity to forget the stress of finals, but also a memorable experience. By shaking their paws and wagging their tails, these dogs provided a much-needed escape from the stresses of finals.