Making moving music
Special Musicians unifies youth with disabilities and musical volunteers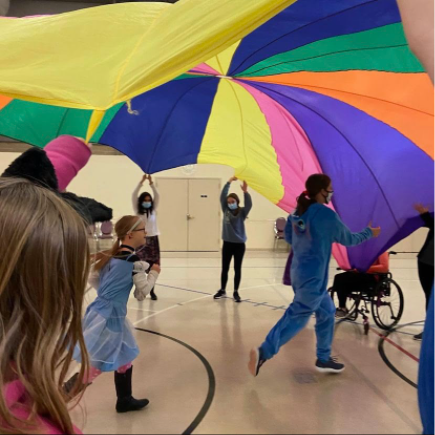 Volunteers help musicians grow in their musical skills as the musicians prepare for performances so everyone has a chance to explore music. Every Sunday volunteers and musicians of all different abilities gather at Saint Paul's Church for Special Musicians. The non-profit organization focuses on empowering youth with disabilities through music. 
Special Musicians has four locations throughout Nebraska. Their main goal is to include everyone through music. Currently, there are about 90 disabled youth in the program. The program started because there was a lack of organizations that let people with disabilities express themselves through something that was not sports. With a drive to change this, Special Musicians started meeting Aug. 12 2017. 
A volunteer member and student at the University of Nebraska Lincoln, Sophia Hill, originally joined because she wanted to spend more time with her friends outside of school. She quickly grew to love being with the musicians and the volunteers. Now, she comes weekly and is a leader in special musicians. 
"Volunteers are paired up with musicians and spend time in session helping the musician perform and participating in the games themselves," Hill said. "After the session, everyone gathers together in the gym to socialize. Volunteers head out after all musicians leave. Overall, the routine for musicians and volunteers isn't very different. Both come to hang out with their friends and join together around the love of music."
The program has a consistent schedule for every Sunday. Volunteers arrive before the musicians get there to set out instruments and organize the activities the musicians will be participating in that day. The musicians split into three different groups based on the musicians' abilities. Near the end, all the participants and volunteers join together to listen to music and play with a parachute. 
"Musicians enjoy getting to pick out an instrument each week and then socialize with the volunteers and the other musicians," Junior Tayler Hand said. Each volunteer is assigned a group and a musician in the group. There are many different activities in groups. Activities range from listening to music and dancing along to clapping out rhythms and playing the piano."
There are many different volunteer opportunities in Nebraska, but Special Musicians stands out as a way for people to serve the community, build strong relationships and learn how to communicate with others of different abilities. Special Musicians is a way for youth with disabilities to have a curriculum catered to their abilities with music. 
"I think one unique thing about Special Musicians is that even though its main purpose is to provide music education for youth with disabilities, really anyone can get involved," senior  Sophia Ollis said. "Creating music brings me and others joy and I wanted to share that with others so Special Musicians was a great way for me to do that."
As the musicians finish preparing for their fall recital, the session must come to an end. On Sunday, Nov. 21, the musicians will get to perform their talents for their family and friends. After this recital, the musicians and volunteers will not meet until the summer session. Although the musicians wish they could go every week, it is not long before the spring session starts again.