Very viral
A senior maintains a large audience on TikTok
While scrolling through TikTok's endless video clips one might notice a familiar face pop up on their "For You" page. Sometimes in a video with her boyfriend, others by herself or maybe even promoting a brand, this student has mustered together a large following on the popular app for young kids, teens and adults alike.  
Senior Kayla Tims has been making TikToks since 2019 when the app started becoming more popular. Following trends and creating more original content has helped her to gain a following of 649.2 thousand followers and garner over 18.1 million total likes. She uploads TikToks often with the chance that they may blow up on the "For You" page, a page curated with videos related to things you like, people you may know and based on people you follow. 
"My reaction when I first started going viral was almost like it wasn't happening," Tims said. "Sometimes it's hard to have a large audience because I always have to keep up with my posting in order to keep or gain followers."
Many of her videos have around 100 thousand views each. However, some of the ones making it to the "For You" page have anywhere from 200 thousand all the way up to her most viral video with 32 million views and 4.6 million likes. After this video with her boyfriend her following skyrocketed, and many of the videos that do really well seem to be ones featuring her boyfriend. Her followers love to comment on their relationship and Kayla believes she influences her large following by showing them what it is like to have a healthy relationship. 
"When Kayla began to gain followers, she thought it was a joke when people told her she was TikTok famous," Kayla's mother Kim Tims said. "I think it benefits her now because she gets quite some money off of it and she can use it for buying things for herself or saving it."
One of the perks to having a large following on apps such as TikTok is profiting off of the videos influencers make for their audience. TikTok has a feature set up specifically to help creators make profit off of their videos through the "creator fund" — which Kayla is a part of. This fund typically gives its members about 2-4 cents per 1000 views. Some brands also send creators products in order to increase their customer count as well. Kayla has been part of a few paid promotions through companies such as "These Glasses," a blue light glasses company. 
"It's super cool that some brands will even sponsor Kayla for posting a video with their product," friend and senior Maddie Meyer said. "Her followers support her and encourage her to keep posting videos."
While most comments on her TikToks are sweet and supportive of Kayla and her relationship with her boyfriend, some can be disrespectful and rude. Kayla is able to brush the negative comments off her shoulder easily. 
"A lesson I learned from being a TikTok creator is not to take anything personal, especially when you have people hating on you," Kayla said. "In reality, those people only say things like that through a screen because they know you don't know them and they would never say it to your face." 
After attracting the following she has, Kayla will continue to post on her TikTok @_kaylatims_ to keep growing her following. Micro-influencing is a great way to have an extra source of income, especially with the costs of college just around the corner.
About the Contributor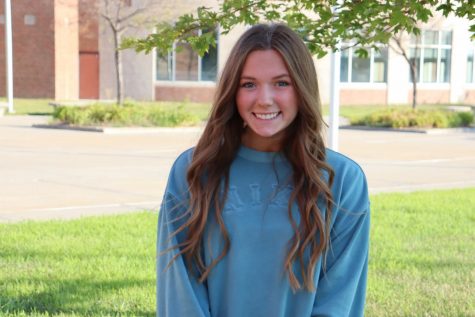 Jenna Reynolds, Features Editor, co-anchor MWHS Wildcat News
Jenna is a senior at Millard West and this is her second year on the Advanced Journalism staff. Her favorite part of Journalism is filming and editing...