Baking the world a better place
Freshman baker turns good eats into entrepreneurship
Emma Baker, Catalyst Editor-in-Chief
January 29, 2021
Life nowadays could use a little more sweetness. Freshman Olivia Ray takes on that challenge one cupcake at a time, sprinkling the lives of many with tasty treats sure to garner some satisfied smiles.
From a young age, Olivia joined her mother, Cynthia Ray, in making delicious-yet-modest delights, such as banana bread. When Cynthia started working full time, she suggested Olivia try out boxed baking mixes to pass the time in a fun way. By middle school, Olivia's bakes were beginning to go above and beyond. 
"As a family, we cook a lot and have always baked desserts for special occasions," Cynthia said. "She caught on to more technical skills right away and never shied away from trying something challenging. I came home one day and found her piping bunny-shaped meringues for Easter. I knew then that baking was more than a passing phase for her."
Thus, in February of 2020, Olivia started an account on Instagram, @liv_.bakes, to share the creations she was whipping up, from pink champagne cupcakes to decadent chocolate drip cakes. It wasn't long before people began messaging her, asking if she could bake something for their upcoming events. The business Olivia Bakes was born—in the midst of a pandemic no less.
"Because people could not go anywhere, getting a custom cake or baked item was one of the few things people could do to celebrate," Olivia said. "As a [home] baker, the effects were not large, but there is an added layer of pressure. Before COVID hit, it was very important to me that my food was 100% sanitary. With COVID, instead of wiping down a surface to ensure your customer's food is clean, you are wiping down a surface to avoid spreading a dangerous virus."
With all precautions taken, Olivia has sold colorful cakes, delicate meringues, French macarons, and more, baking whatever fulfills her customers' desires. Her most popular treats are her lemon raspberry cupcakes made of a sweet lemon cake, creamy lemon frosting and a fresh raspberry on top. But simple palated folks have no reason to fear: customer and friend Valerie Pioppi was more than happy with her "basic" flavor. 
"[Her vanilla cupcakes with vanilla frosting] were probably some of the best cupcakes I've ever had," Pioppi said. "You can tell she's really passionate about it. I'm happy to see that she's succeeding in something she enjoys."
Content customers, like Pioppi, keep Olivia's passion project alive. Every week, she receives around two orders with most reserved for weekend celebrations. While this lightens her workload during the school week, there have been instances where the busyness of life results in turned down requests.
Other kitchen stresses, like facing the unknown of a new recipe or wondering if the customer is satisfied, have their effects on Olivia, but it's nothing she can't handle. Her depth of baking experience and optimism lends well to an attitude of stick-to-itiveness.
"It is very worrisome that you could have left out one minor step and ruined the cake," Olivia said. "However, one of the best parts of baking is when you check to see if your baked item is turning out and you look in the oven to see a perfect baked item. When the final product turns out just the way you planned, all the hard work that went into it is worth it." 
Ever since banana bread and bunny-shaped meringues, Olivia's skills and development as a passionate baker and business owner have grown exponentially.
"Liv is definitely a perfectionist when it comes to baking and is extremely creative," Cynthia said. "With each new cake she makes, she seems to try something new. For instance, with a recent cake that happened to be a gift, her friend wanted a Harry Styles-themed cake. She created Harry out of icing and made the top of the cake look like an album cover. It was pretty amazing and not like anything she had done before."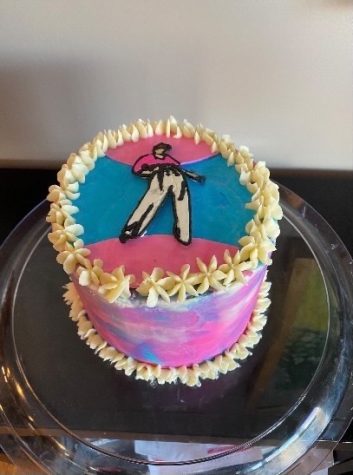 Olivia's talent and determination doesn't stop there. She has also developed her own packaging—signature yellow stickers—and prices. A dozen cupcakes starts at $18 and cakes at $30: a small investment for scrumptious memories. Olivia puts much of the money she earns towards her college fund but also sets some aside for spending and donating to her church.
Looking to her future, Olivia says she doesn't plan on owning a bakery, but she will cherish baking for many years to come as a hobby that benefits not only herself but her friends and family, too.