Family guilds "spooktacular" graveyard
Junior displays his handmade Halloween decorations
At the beginning of October, when most have yet to begin the preparations for Halloween, junior Ivan Smith gets to work on setting up his front yard graveyard: The Renfro Boneyard. 
Located just across from Millard West on the corner of Renfro Street and 176th Avenue, the cemetery draws in families from all across the neighborhood who come to watch in awe as Smith's house is illuminated with multi-colored lights and dancing skeletons. 
For the past five years, Smith and his father, Rob, have built their graveyard together, adding new statues, animatronics and decorations each October. The month-long set-up serves as a bonding activity between the two, allowing them to spend valuable time together while planning, designing and creating the cemetery decorations. 
"Getting Ivan out here and doing stuff is one of the few times we can actually spend together," Rob Smith said. "The first couple of years, it was just me telling him what to do, but this year the design is pretty much one hundred percent him. He decided how lights went up, and where everything went. It's cool to have time to hang out with him and watch him grow at the same time."
The graveyard set up starts on the first weekend of October, when the Smiths put up the boneyard archway and lay out skeleton bones across their yard. Then, every night leading up to Halloween, a new piece is added to the display.
New to the collection this year is a 20-foot tall grim reaper animatronic that towers over the graveyard and speaks when passing viewers use its step pad. Around 70% of the Renfro Boneyard display is handmade and inspired by pictures or videos that Smith finds online.
"The grim reaper was new for this year, and then we added a cauldron, a witch and more fencing in the side of the yard," Smith said. "We watched Youtube videos of other people's fences that they've made, and then put together our own."
The Renfro Boneyard got its name from the street it sits on, and has since become a Holoween favorite among neighbors and friends. 
"We were trying to come up with a really cool graveyard name, and we decided to just name it after the street," Rob Smith said. "We've had a kid down the block learn how to spell where he lives from our sign, so we just decided to keep it."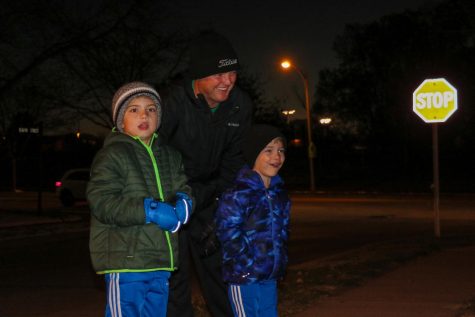 Although Halloween might look different this year, the Smith family still expects Renfro Boneyard to be busy with trick-or-treaters and neighborhood families. Because of this, they've taken extra steps to make sure everyone is staying safe while still being able to enjoy the attraction.
"Because of COVID-19 we can't have kids running through the yard," Rob Smith said. "Every other year we just open up the gate and let them come in, but this year we've added the step pads so they can have something interactive to do."
The Smiths expect over a hundred kids to visit the boneyard this year, a huge step up from previous years. They hope to keep updating and adding to the display and look forward to continuing the tradition in years to come.