An artist calling
Junior mentees at famous Joslyn's Kent Bellows Mentoring Program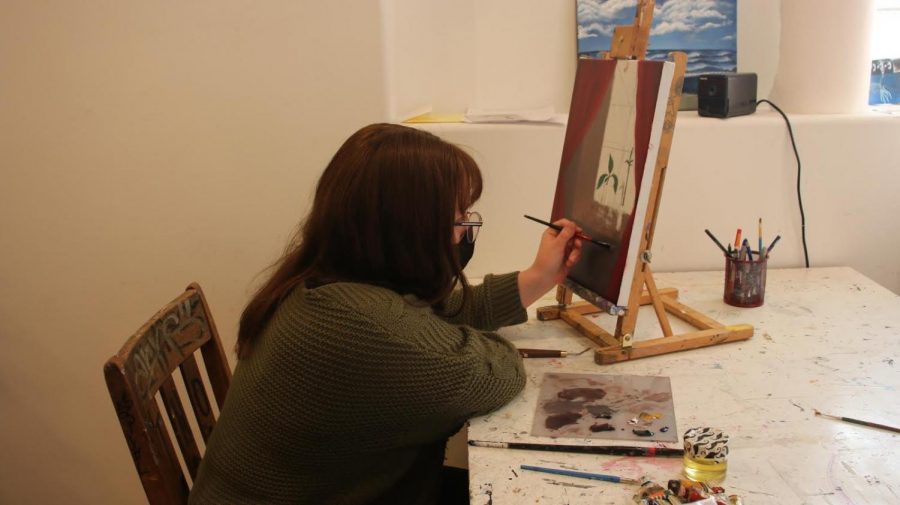 Most high school artists are excited to go to their art classes. Some students may even work on their art projects at home. However, junior Brenna Batchelder gave up her Monday and Thursday nights to go to Kent Bellows Studio to be mentored by successful artists in Omaha. 
Kent Bellows' Mentoring program is where 70 young teen artists can work with art mentors for three semesters a year. This program teaches teens techniques and skills and provides a chance to build their portfolio after school, in the famous Kent Bellows Studio, located on Leavenworth street.
"Joslyn's Kent Bellows Mentoring Program is an interdisciplinary arts mentoring program for high school-aged teens, "studio coordinator Sophie Newell said. "We match teens with mentors who are professional artists in the Omaha area with the goal of providing a supportive environment in which they can learn new skills, meet new people, find inspiration and build an art portfolio."
The Kent Bellow studio is an old studio that was owned by the famous artist Kent Bellows. Bellows is known as America's greatest master of figurative drawing. His work is exhibited and celebrated in museums around the nation such as The Art Institute of Chicago and The Metropolitan Museum of Art. 
"The studio is a really nice environment that is centered around being creative and is diverse and full of people who are passionate about art,"  Batchelder said. "It's an artist's dream. You get access to an abundance of materials and resources from your mentor to help you create what you want to create. It's a really involved process, and you meet a lot of interesting and diverse people."
With support from her Millard West art teacher, Batchelder was encouraged to apply to this program. She started to make a portfolio of her progress in her years as an artist. 
"I have been doing art since I could pick up a pencil but around the middle school was when I started taking art more seriously," Batchelder said. "My art teachers influenced me in many ways that encouraged me to apply for this program." 
Brenna's father, Bret Batchelder, has been a big supporter of Brenna and her passion for art since she was little. He encouraged her to join this program to help her grow as an artist. He was very proud to see her get into a program that is so competitive. 
"Brenna has always been interested in art, she has always been drawing or crafting things." Bret Batchelder said. "It was a great opportunity to explore art beyond what was taught in school."
In the summer, Brenna Batchelder started to gather her pieces for the second time to submit to the Kent Bellows Program. She received an email about the opportunity and shortly thereafter began her new art journey. Since August, she has been going twice a week.
"I meet at Kent Bellow twice a week and one day is focused on working with our mentor and figuring out issues or blocks within our projects," Batchelder said. "The second day is work time for our projects."
Currently working on an oil painting, Brenna gets to learn the skills and techniques from her mentor, who is a master oil painter. She is given the materials to create pieces of different mediums and the teaching of a real-life artist. 
"For this semester, I am working on my oil painting skills which is a new medium for me. So far I have been having a ton of fun with it," Batchelder said."I have also been learning more about the creative process and how to express my ideas more clearly through my work. My mentor, Laura Northern, specializes in drawing and painting. She is so talented, and I am excited to get the chance to work with her. She always provides me with new ideas or approaches for a project and shows me resources that help."
Newell continues to watch Batchelder's creative spirit and sees how she is growing as an artist. She sees Batchelder weekly and provides her with guidance for her current projects. 
 "We love having Brenna in the program," Newell said. "She really dived right in from day one with oil paints, a medium that she was unfamiliar with, and I can already see her confidence increasing as she becomes more adept with them." 
Given this opportunity, Brenna plans to learn lots from being a mentee. She plans to take her passion for creating with her in the future and encourages young artists to keep creating and have perseverance. 
About the Writer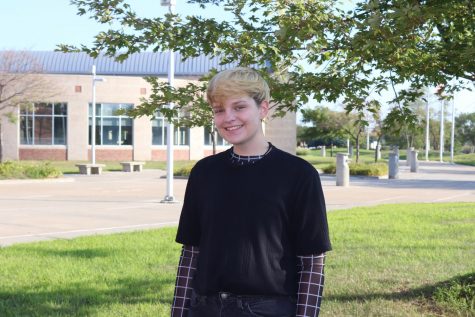 Haden Batchelder, Staff Reporter
Haden Batchelder is a senior and this is his second year on the CATalyst staff. He spends lots of his free time doing photography, skateboarding, and listening...