Passion on ice
Senior finds hobby in skating
As her blades smoothly glide across the ice, she finds herself almost flying through the air. When she comes to a stop the skates cut into the ice leaving a scar in the rink. Ice skating is a very technical and difficult activity that requires skill and practice which senior Audrey Koesters has been improving on since she was a child. It all started when her brother used to rollerblade around their neighborhood and began to teach Audrey the ways around a rollerblade. Rollerblading was what eventually led Audrey to the ice rink. 
"When I was young I rollerbladed a lot with my brother," Audrey said. "My brother used to rollerblade everywhere and he did roller hockey. My brother taught me to rollerblade when I was young. I then went ice skating which felt the same to me as rollerblading, but for ice skating I just kind of got on the ice and started going backwards and it felt just like rollerblading."
The first time she stepped on ice, she felt that it was similar to rollerblading. This allowed her to have a step in the door when she started learning to skate on ice rather than cement. She first went ice skating for a birthday party and her passion rapidly grew from there. 
"After my first time, I loved it so much I told my mom I wanted to ice skate more," Audrey said. "So I usually go with my friends a lot because I do not like to ice skate alone and Moyland is cheap so I go there alot to practice and skate."
She began going to Moylan Iceplex more frequently to keep learning and improving her skills. Not only has Audrey enhanced her ice skating skills, she also gets to spend time with friends. Her hobby has brought her to become close with many people around her. Since the beginning she has created strong bonds with others that share the same passion of ice skating.
"It's a fun activity we both enjoy," senior Alexandra Dobesh said. "It gives us a chance to spend time together and talk, but we can also get some exercise. It is a fun activity we can always fall back on if we haven't seen each other for awhile or do not know what to do."
Audrey brings many of her friends that are interested in skating to help them learn new skills or even learn the basics of ice skating. While she is teaching others she is also learning new skills as well. 
"The first time she invited me to go, I had only gone ice-skating once, and that had been several years ago," Dobesh said. "She helped me learn how to stay away from the wall while skating. I wanted to just cling to the wall, but she made me move away from it. This helped me gain confidence and eventually, I was able to ice skate without relying on the wall. She has also tried to teach me how to stop without running into the wall and how to skate backwards. Those two skills are still a work in progress."
Not only has it brought her close to her friends but it has also brought Audrey close to her older brother Devin Koesters. Their special bond formed at a young age when both would rollerblade together.
"There is 10 years between us, we don't have a lot we connect with but this is one thing we can do and enjoy together we're our age difference doesn't matter," Devin said. "It gives us quality time together." 
Ice skating is a hard skill to learn, it takes precise foot work and perfect balance. For Audrey it came very fast for her and taught not only foot work but dedication and patience. Skating can clear her mind of stress and allow her to focus on something she loves.
"Ice skating has taught her stamina and control," Devin said. "It has also taught her how to push through when things are not easy. Learning to skate is hard on your legs and ankles and you don't get it the first time out. You have to be persistent. When she is out on the ice she can just skate away any anxiety or stress. It can be like therapy for her."
Audrey will continue her passion for being on the ice. She hopes in the future she can join an adult hockey team to further her hobby. For now she will carry on with practicing her skills and skating with her brother and friends.
About the Contributor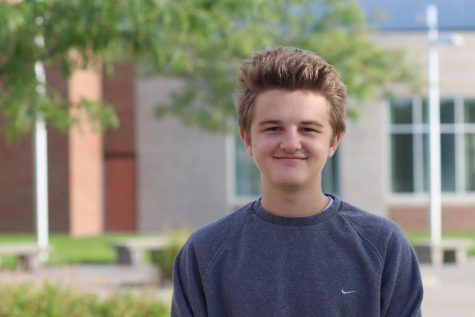 Logan Berggren, Features Editor
Logan is a senior and this is his first year on The Catalyst staff. He enjoys writing Opinion and Feature stories. When he is not writing, he is out taking...