Coordination with character
Junior's opportunity to compete on Team USA for baton twirling has left nothing but positives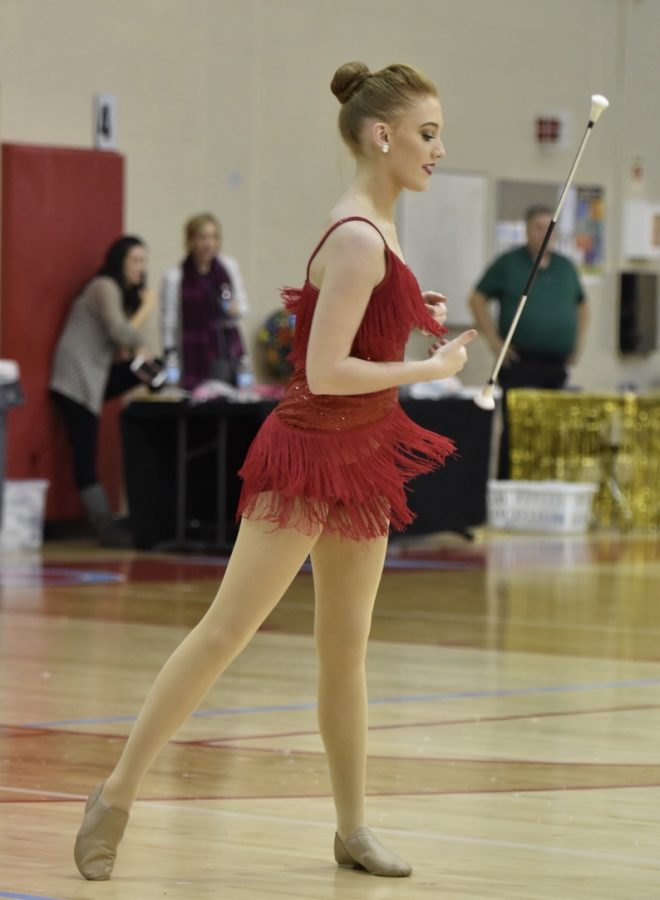 Baton twirling, an intricate coordination of a routine and manipulation of a metal rod with a dedicated performer in the mix. Junior Abby Buckley has been in baton twirling for over 13 years, beginning at the soft age of 3. For her, the extracurricular activity became a huge part of her, presenting opportunities to excel and flourish. 
The difficult and competitive sport is more than waving a baton in a parade, but consists of dancing, tossing and spinning in the hand or air. For Buckley, the commitment to the activity was made when she made the national competition team at the age of 7. Following this, Buckley has been able to advance through to earn a spot on the senior team, and because of this, she was able to earn a spot on Team USA for baton twirling.
"I did have to try out originally three years ago at the beginning of the year which is when we have to be on the senior team," Buckley said. "I have been on the team ever since."
Being able to represent the US through baton twirling, Buckley is able to work with teammates who share the same drive while traveling to do the activity she loves. 
"Going to Worlds and being on the team, there is a lot expected from you and it's nerve-racking," Buckley said. "I work well with other people and working as a team because I've been used to that from baton ever since I was little."
When she was 7, Buckley was able to earn a spot on the National Competition Team, requiring her to compete at the University of Notre Dame for one week. Along with this, Buckley trains for the World's Qualifying Year, which is held every three years. Earning a win gives the team an opportunity to compete in a European country for a world title. For Buckley and her team, they are able to represent the US this year in Holland.
"Baton is a commitment that's for sure, it didn't mean anything at first," Buckley said. "As I grew up and became close with my team and coaches, which I can now call my family, it means a lot and has taught me a lot."
With the pressure, Buckley has to train hard in order to keep up with a fast-paced routine and hit every count , all while maintaining passion and energy. For her practices, she continues to put all her effort in order to contribute to the team.
"If I have something I'm working on I'm very focused because focus plays a huge part in baton twirling," Buckley said. "Our practices take place every Wednesday for two hours and almost every Sunday ranging from three to six hours."
While maintaining a balance of school, friends and practice, Buckley receives support on the sidelines from her Terry Buckley. Not only does her daughter make a commitment to the sport but Buckley's mom spends time to be present for her hardships.
"Parent support over the years covers personal assistant duties for Abby, volunteering at competitions and recitals, fundraising, travel arrangements and more," Buckely said. "In a few words it is pay, drive, clap and cheer."
Through baton twirling, Buckley has translated each skill and characteristic into her personality and everyday life. Team USA has helped illustrate and define those qualities in Buckley's character.
"The sport of baton twirling has enhanced Abby's attributes, it is a commitment she made since she was 7 years old," said Buckley. "She has gained confidence, grace, interviewing skills, goals settling, costume design skills, modeling and developed lifetime friendships." 
From those friends, Ellison Vavra has stuck by her side. The pair were able to develop a close bond in middle school and became best friends because of baton twirling.
"She puts others before herself and she truly cares about everyone she meets," Vavra said. "Abby is very dedicated to what she does, no matter how hurt or tired she is, she pushes herself to make sure she's constantly doing her best."
Because of their strong connection, Buckley and Valvra are able to support each other as both teammates and good friends. 
"We always go to each other for advice or just someone to talk to," Vavra said. "We both push each other to be the best we can be whether that be being a better twirler or just a better person overall."
With parents, friends and team members, Buckley is able to excel and develop both skills as an athlete and a person. This year, the USA Worlds kick off event will be held at Ralston High School on March 29th. As Buckley prepares for the event, her support system will be there to push her and motivate her.
About the Writer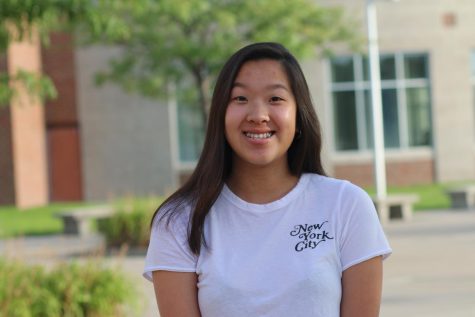 Michelle Zhang, Opinions Editor
Michelle is a junior back for her second year of writing for The Catalyst. Providing a touch a humor in each piece, Michelle intends to make each of her...