The impact of Millard West
Students and teachers donate 130 units of blood to those in need during the Jim Johnston Memorial Blood Drive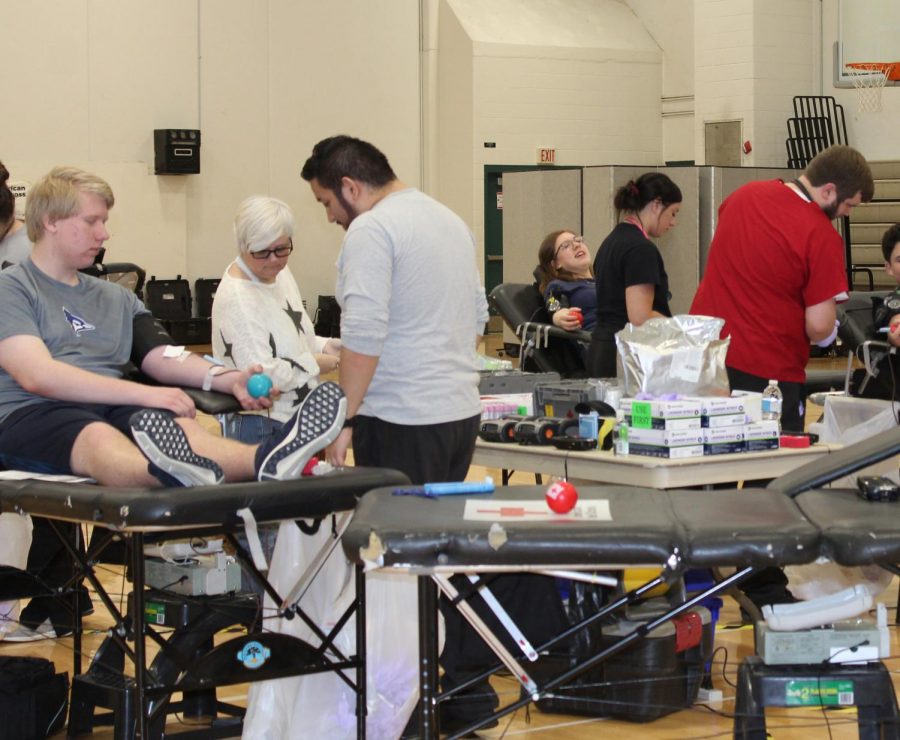 Friday, May 3, marked the annual Jim Johnston Memorial Blood Drive, named in honor of the teacher who organized Millard West's first blood drive, who passed away in 2014.
The drive ran from 8 a.m. to 2 p.m. and was put together by HOSA sponsor Jeanne Meyer with the help of the American Red Cross. In order to donate, those who sign up must be 17 years of age or older, or 16 with a signed parent approval form. Donors are screened to make sure their blood pressure, iron levels and weight are ideal before they are able to participate in the drive.
"Safety is the top priority at any blood drive," Meyer said. "Red Cross staff do a health screening and check for iron levels before anyone is allowed to donate. They ensure that donors meet the age and weight requirements and that they are not donating too frequently and follow up with donors who may not have felt well after donating. The Red Cross workers adhere to strict guidelines. New, sterile disposable equipment is used for each donor, so there's no risk of contracting a bloodborne infection by donating blood."
HOSA, or Health Occupations Sciences of America, is an organization for high school students interested in joining a health-related profession. Members are able to assist in the sign-in process and guide those after they have given blood. Senior HOSA member Isabella Miceli assisted in the sign-in and registration process.
"HOSA is a club for anyone interested in the medical field, ranging from veterinary science to nurse administration," Miceli said. "Along with three blood drives a year, we also put together the Healthy High School Challenge and the Toy Drive. But the blood drive is our biggest project."
After Johnston's death, the tradition was carried on in memory of him. Jed, Johnston's older brother, and Joel, Johnston's younger brother, showed up to the blood drive to contribute to the donation pool and to share their happiest memories of their brother.
"Jim was the HOSA sponsor who started the blood drive because he was looking for a way these kids could give back to the world they lived in," Johnston said. "He saw the need and wanted to help. He wanted to help others live their lives to the fullest."
After his death, the Johnston family learned that the drives Jim put together at Millard West helped 14,000 people.
"His legacy lives on through those he helped," Johnston said. "We all have blood. It's easy to give and it helps people. By giving blood, we can save lives."
With the recent flooding in the midwest, more donations were required to assist those in need. Nebraska was down 500 units of blood due to the floods. The unexpected factor of disasters is a reason why so many contribute, according to social studies teacher Kerrie Busteed. From unexpected natural events to car accidents to labor and delivery, blood can be needed in several different scenarios.
"It's important to give blood because you never know who is going to need it," Busteed said. "Who knows, I might need it myself sometime down the road. Even if you can't give money to those who need it, you can donate blood and help someone out that way."
The process of putting the event together takes a large amount of planning. Meyer works with American Red Cross representative Trevor Oestmann to ensure the success of each blood drive.
"My job with the Red Cross is to work with Ms. Meyer to set goals, design awareness posters, bring the equipment and work with other coordinators to make it happen," Oestmann said. "I've put together around 500 blood drives in the span of two years."
The importance of blood is crucial in assisting those who need medical attention.
"Blood is the only medication that can't be processed in a lab," Oestmann said. "It can only come from donors. Only 3% of the population regularly donates blood, and the average person only gives blood 1.6 times a year. My job is to help promote the importance and to get people to see the need for their donations."
A large reason why several people don't donate is because they're afraid of needles or blood. The end of the year also becomes more chaotic with graduation, illnesses and stress. However, if the students are able to overcome their fears, they're able to help others through bravery and courage.
"I think some people don't donate because they're afraid of needles and the nurses," Busteed said. "The nurses are very nice and do an excellent job making sure you're comfortable. What I wish I could tell people is to just try it out one time. The pain doesn't last, but the sense of pride does."
In memory of Johnston, posters with pictures of him adorned the gym. Another poster was created by HOSA with Johnston's name on it and was titled Jim Johnston's Warrior Wall of Fame. Donors were encouraged to write their name on a bicycle to remember Johnston and his favorite activity. Throughout the day, the poster collected names of the donors who participated in the donations.
Millard West is fifth in the country for the number of units the school is able to donate, meaning the blood drives the school conducts are typically successful. Dates for blood drives are already in the process of being decided for 2020. The Jim Johnston Memorial Blood Drive produced 130 units of blood that were donated to those in need.
About the Writer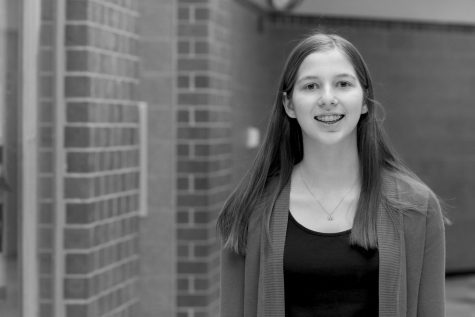 Olivia Edwards, Staff Writer
Olivia is a sophomore at Millard West and is starting her first year as a member of the CATalyst staff. She is thrilled to get the opportunity to write...