Swinging into Retired Life
Physical Education Teacher at West Retiring after 21 Years of Teaching
Hang on for a minute...we're trying to find some more stories you might like.
Teachers love interacting with students. They create bonds with students, get to know them and love to see them progress through their learning. Gym class is no different. Physical Education teacher Vickie Glesmann has made these bonds with so many students at Millard West over her 21 years of teaching and has now chosen to retire. 
Her life long pursuit was to be active and healthy and help others to do the same. Many classes that Glesmann teaches, including Cross Training Ⅰ and Ⅱ, involves different types of exercise, different types of stretching, muscles in the body and how to obtain great health throughout whole body.
"I have been at Millard West for 21 years and I feel very fortunate to have had the opportunity to teach and coach here," Glesmann said. "My goal was to make a positive impact on kids by being a good role model for fitness and as a good person. Probably the thing I will miss most is the day to day interaction with kids and how I can help them learn about exercise and the benefits from it."
Throughout her life, she was always active and participated in numerous sports and knew she wanted to pursue a career relating to sports. Glesmann received higher education at the University of Nebraska-Lincoln. She played tennis in college which she enjoyed immensely.
"It was a great feeling to retire after doing something I enjoyed doing for 30 years," Glesmann said. "I chose teaching physical education because I enjoy physical activity. I like doing a variety of things each day and being mobile. I will now be teaching tennis at Genesis Health Club in Omaha. I will do this part time."
Glessman obtained her certification by USPTA, United States Professional Tennis Association, and earned the title of Tennis Pro Instructor. She had to do a court stroke test, which is a 10-15 minute test designed to evaluate the players level of control and power while showing the ability to serve, swing and hit the tennis ball. Along with that, she had to complete an online exam to earn this certification.
"I made the decision to retire due to an opportunity that came knocking on my door to pursue my work with people through tennis education," Glesmann said.
Throughout the 21 years of teaching at West she has got to know the students pretty well and doesn't want to give up that part of her job. While teaching tennis at the Genesis Health Club in Omaha, she will be teaching kids as well as adults how to be healthy individuals. This opportunity arose with a schedule which is manageable for retired life and not a day to day schedule like the one provided at West.
She will enter the next part of her life with a smile on her face and will still being pursuing her passion for sports.

About the Contributors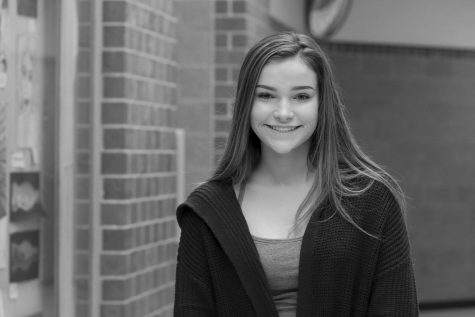 Macey Wahl, Staff Writer
Macey is a sophomore and this is her first year in Advanced Journalism. Macey enjoys writing about interesting students and loves taking photos. She is...