Helping Bands
Selling bracelets for a cause
Hang on for a minute...we're trying to find some more stories you might like.
Although students at Millard West do not have a second thought about attending high school, this is not a reality all around the world. In the two week span of December 3-14, Key Club and Spanish Honors Society ordered 400 Yuda Bands to help their sponsored student, Yoselin, go to high school.
In Guatemala and other developing countries, primary school up to seventh grade is public. After that, however, secondary education is private and not funded by the government. Since many families are impoverished, they are unable to pay to further the education of their children beyond seventh grade. Yuda Bands give these students the opportunity to receive the education they need.
"I was at the Millard West Student Council State Conference and they had a table there where they were promoting the fundraiser," junior and Key Club member Sage Moran said. "I went over there to check it out and it was these Yuda Bands. He explained the story about how it was sending kids to school where they can't pay for it themselves. I thought that would be a good project for Key Club."
Yuda Bands is a nonprofit organization which provides money to send children and young adults to school. Yuda comes from the word ayuda: meaning help in Spanish. The purpose: helping aspiring students go on to a higher level of education past primary school.
These unique bracelets are hand made by Guatemalans using coconuts and leather. Once they are made, they are sold by schools, families or individuals; anyone who wants to participate in this fundraiser.
"Being able to humble yourself and think about really what they have to  go through just in order to receive a basic education, it's an overall globalistic view," Key Club Sponsor Heather Baker said. "You want them to succeed and you want them to help their country to be well-developed. Really if you think about the world in general, if everyone is productive, it helps everyone."
The website provides a short biography of the students who receive the money raised by the fundraiser as well as how many bands they need to be fully funded. Whoever participates in selling the bracelets chooses the student they will sponsor to their high school education.
Yoselin Demaris Vielman Elias is the student Key Club and Spanish Honors Society have chosen to sponsor. Living in San Martin Jilotepeque, Guatemala the 20-year-old aspires to be a preschool teacher. She values education and believes it will help her become more successful and better able to help others. Students and sponsors of Key Club and SHS are able to contact her through Skype. They plan to do so once the fundraiser is finished.
"The reason why we are sponsoring an older student is so that way they can go ahead and complete their high school career because after a certain point in your life you may end up having to help out with a family and so your educational career is set aside," Baker said. "We want to help them and younger students have a little bit more time."
Education in developing countries can result in a lesser poverty rate. Poor education is a large reason for a high poverty rate and a low economy.
"In my eyes, education is the key to your future in order for you to actually progress in society," senior and SHS member Gaurav Khot said. "Especially in a society where the only way for you to get up through certain ranks and to have a certain amount of money or to have a certain degree and you have to have money to do that. You need to have the basic building blocks of education in order to do that and what we're doing with the Yuda Bands project; we're trying to get that first building block for the girl in Guatemala."
These bracelets are $7 and all proceeds go to the chosen students education. The slogan is, "Wear a band. Change a life." Something as simple as a bracelet can advance one person's future for the betterment of themselves and their community.

About the Writer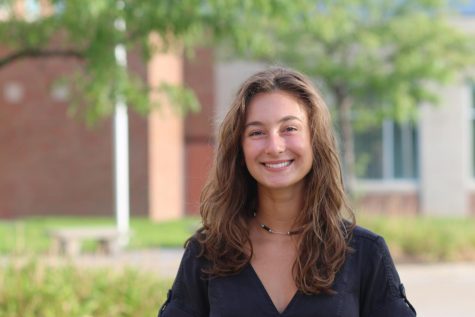 Kaitlyn Willard, Catalyst Editor-in-Chief
Katie is a senior and this his her third year on the CATalyst staff. For the past two years, Katie has served as Features Editor. She enjoys writing and...