Hard Work Pays Off For Millard West Band
Wildcat band brings home 3rd from state
On Saturday, Oct. 20th, the Millard West Marching Band performed in the Nebraska State Marching Band competition, taking home the 3rd place trophy and the award for best visual performance.
The Wildcats performed their show titled The Flight of Spring.  About 100 marching band members teamed up with the Millard West Color Guard to produce their performance. Led by the band directors John Keith and Byron Braasch, the students worked day in and day out to put together a show. They were given their music in May, and they began marching in June. They practiced through the hot summer heat, working to perfect the performance.
"There's a lot of practice and preparation that goes into this," senior clarinet leadership Hali Merchant said. "All together, we have the color guard, who learns different routines and dances with flags. Then the marching band learns the music, marches it for memory and learns drill and visuals."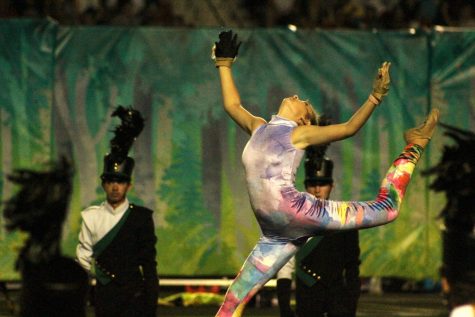 Each and every student put in the time and effort needed to bring the show together. The band worked as hard as they can during practices and performances in the hopes of providing a solid and flawless performance for those watching.
"Though it doesn't seem difficult when watching, it is," sophomore Natalie Jaworski said. "People are always like 'Oh that looks so easy', but it's really not. We usually practice around two hours each morning but because of state we als practiced from six to nine on thursday nights."
Jaworski stresses the importance of communication during practices and performances.
"You have to know where and when you need to be places," Jaworski said. "Just talking to each other during performances and making sure everyone is where they need to be is crucial."
Though the days are long and the work is challenging, it all pays off. The band students say that their experience has changed them for the better. Each student is given the opportunity to grow as a person and learn new lessons that they will continue to use in the future.