A new kind of Homecoming Royalty
Student Council changes how candidate voting is done
Hang on for a minute...we're trying to find some more stories you might like.
Arm-in-arm, the 20 Homecoming royalty candidates walk down the 50-yard-line escorted by their parents. Each nominee was announced one by one along with what activities they are involved in.
Taking inspiration from the#BeKind Campaign, Student Council decided to make the voting process more meaningful.  They wanted the candidates to be selected because of the kind of person instead of the vote being based on their popularity.
When filling out the voting form, each participant must name the nominee as well as selecting two of the five traits listed that should represent a good character. Integrity, positivity, being outgoing, involved and respectful were the chosen traits that the nominees would have to show. Also, everyone voting were required to type out an example of how the nominee had shown kindness.
"Student Council wanted to incorporate the #BeKind campaign into the voting process to make sure that people were being nominated for the right reasons," junior Student Council officer Alexandra Dobesh said. "We are hoping that eventually we will be able to have anonymous voting, students should base their voting decision on the traits used to describe that person rather than a name."
In the week leading up to Homecoming, the candidates were announced at the pep rally. Along with announcing the nominees, what kindness means to them was also shared with the student body.
At the football game on Oct. 4th, juniors Lauren Hoff and Dalys Beanum were announced as Homecoming Princess and Prince and being crowned as Homecoming Queen and King were seniors Natalee Noble and Pryce Dornbier.
These individuals stood out to their class by the acts of kindness they do daily  and the way they present themselves to everyone.
"It was such a star struck moment for me and it was hard to not get emotional," senior Natalee Noble said. "It made me feel a lot better about myself knowing that many people thought of me because I really do my best to make everyone feel welcome and spread positivity in our school."
Unfortunately, Dornbier and Beanum were not able to walk down the field to accept the honor due to playing in the football game against the Grand Island Islanders.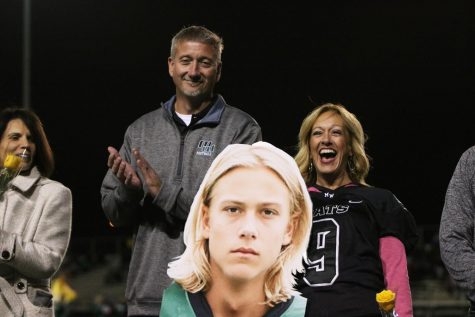 Dornbier's parents represented their son by walking down the field on his behalf. Because of Dornbier's absence, his mom carried a big cardboard cutout of his football picture on a stick.
"My mom mentioned the cardboard cutout to me as a joke, but knowing her I should have known she was going to end up doing it," Dornbier said. "I am not upset I didn't get to walk since Grand Island was our biggest game and being there for halftime adjustments was much more important to me."
Since Beanum didn't accept his sash and crown on the field , Student Council sponsor Ali Bragg brought him his winnings during first block Advanced Jouralism the following day.
"During the game I didn't really realize that I had won prince because I was so focused on beating Grand Island," Beanum said. "Being crowned and sashed in first block didn't really feel as big of a deal as it would have been on the field but it was still a surreal moment for me."
On the night of  the Homecoming dance, the royalty celebrated with their friends by wearing their sashes and crowns.
All in all, being crowned Homecoming royalty is an honor. Not only do these students represent their class, but they are also promoting the #BeKind campaign. Homecoming is only for a night, but kindness lasts forever. Student Council plans to continue using the idea of recognizing students who are kind on a day-to-day basis through Homecoming royalty in future years.  Whether or not the #BeKind campaign continues through the years, the process of homecoming nomination will forever be changed along with honor it brings.

About the Writer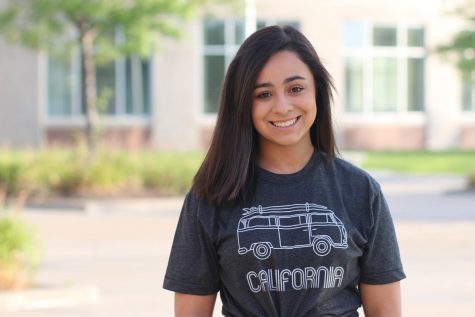 Jasmine Hermosillo-Padilla, Online Editor
Jasmine is a junior at Millard West and this is her second year on the CATalyst staff. She loves to meet new people and learn their stories and who they...