On to a Bigger Role
Athletic Director Dr. Christopher Loofe leaving West to become new principal of Kearney High School
Hang on for a minute...we're trying to find some more stories you might like.
After six years as the Activities Director and Athletic Director, Christopher Loofe is moving on from his second stint at Millard West to take over as the new principal at Kearney High School. Loofe worked as a special education teacher as well as a baseball coach when Millard West first opened. Even during his early years, his goal was to one day work his way up to being a principal.
In a perfect world he explained that he would love to be a principal at a high school in Millard. This district, however, has three principals that are relatively young for the positions, so it was unlikely this district would hold his first opportunity.
"Unfortunately or fortunately, these jobs don't open up very often," Loofe explained.
With his two daughters already graduated and a son transitioning to middle school, this felt like the right time to move. Had this job opened up two or three years ago when his girls were still in school, Loofe is not sure he would have taken it.
The decision to leave was still tough for Loofe because he has built strong relationships with his co-workers. When the news of him being selected as the new principal at Kearney High School broke out, mixed reactions came from his peers. His co-workers were excited he got the promotion, but some were devastated that he was leaving.
"The admin team is a solid team, and the teaching and coaching staff are first class people," Loofe said. " I'm going to be sad to leave a lot of people here in this building."
He has always been easily accessible for students and coaches to reach out to him, and has made an effort to attend all of the sporting events at Millard West. Whether it was calling Millard North the "blue school" and Millard South the "school down the street" or checking in on former Wildcat athletes well into their college careers, Loofe is a true believer in the Millard West culture.
"I liked how involved he was in the sports here and how he supported all of the teams," senior Millard West crazy Garren Morris said. "With how involved he is, he'll make a great principal."
Kearney is an unfamiliar place for Loofe. The dynamics are different from Millard West, but since he grew up in a smaller town, he has a good feel for the atmosphere. His goal is to help teachers grow in his new role, and create a positive environment for teachers, students and administration.

About the Writer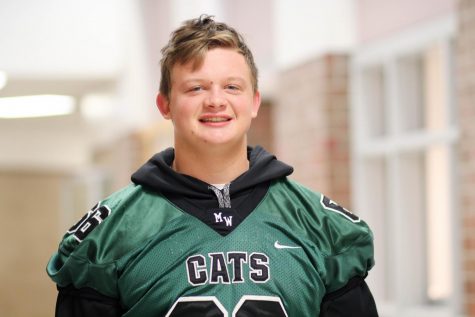 Jaden Cover, Sports Editor
Jaden is in his 3rd year on the staff here, the longest of anyone in the class. He's always found interest in sports writing and sports broadcasting, so...