Dancing into the Future
A dream come true for senior dancer
Hang on for a minute...we're trying to find some more stories you might like.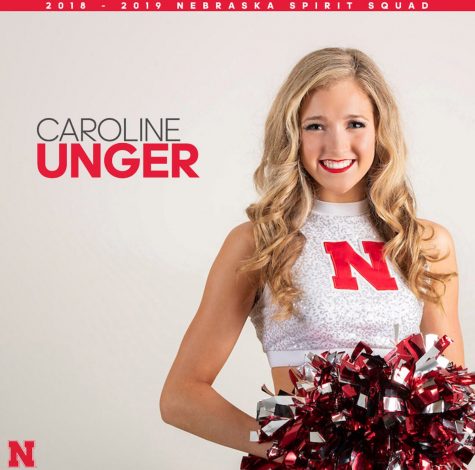 Photo Courtesy of Caroline Unger
Tens of thousands of fans stand screaming and cheering in Memorial Stadium. The tunnel walk music blares out of speakers and Nebraska's pride and joy- their football players— burst onto the field. But for one young girl, this spectacle holds no interest. Her attention is laser focused on the beautiful Scarlet Dance Team.
This little girl has received the chance to join those talented dancers on the field. Senior Caroline Unger was the only incoming college freshman to make it on to UNL's elite dance team: The Scarlets. She attended the auditions on April 14 and 15 and after a long, nerve-wracking wait, Unger found out she made the team on April 30.
"It's been my lifetime dream to be on that team and in front of that crowd," Unger said. "I remember my first Husker game when I was five, walking into the stadium and being mesmerized by the dancers. I don't think I watched a second of the game."
The first stage of the tryout involved a video audition. From those videos, 33 girls were invited to attend the tryout in Lincoln, Nebraska.
Day one of the audition involved check-in, warm-ups, and the learning of a jazz routine from Denver Broncos cheerleader, Jozie LaViolette.  After lunch, the hip-hop routine was taught next by one of the judges and former Hofstra University Dance Team member, Zach Galsso. These routines were performed and then evaluated by judges, followed by the announcement of that day's cuts. Those dancers who remained after cuts took a sports quiz over UNL which involved questions such as who were the head coaches for each sport and what year national championships were won. The quiz's function was to prove that each girl was knowledgeable about the athletics at UNL.
"They were looking for the overall package," Unger said. "They wanted the best representatives for the university whether we're in uniform or just walking around campus."
Day two of tryouts began at 7:30 a.m. with a two mile run which had to be completed in under 18 minutes as proof of each girls' physical fitness. This was followed by a photoshoot to see how each girl looked in the uniform and then an interview in front of a panel of five judges. The audition ended with a final evaluation of their learned routines, the fight song and a lyrical improv.
After an agonizing two week wait, on April 30, Unger learned that she had made the team of 16 Scarlets.
"I knew in my heart that she would make it," Millard West dance coach Laura Pickett said. "She's a coach's dream. Caroline is such a positive role model, and many young fans will look up to her."
The requirements to become a Scarlet are intense. To be chosen, one must have a minimum GPA of 2.5, elite technical dance skills and a willingness to be a teamplayer and contributor to the program among other requirements.
"I definitely think my perfectionist personality has helped me get to this stage," Unger said. "I'm not satisfied unless what I do is 100% correct, and that has really helped me grow as a dancer."
Perfectionism isn't the only thing that's helped Unger get to this point. She has been dancing since age three and has trained in all styles of dance: ballet, lyrical and jazz to name a few. She has been a member of the Fusion Dance Studio, Skutt High School and Millard West High School dance teams. During the school year, she would practice for up to 20 hours a week- 10 for school and 10 for her studio.
"If I could describe Caroline in one word it would be goal-oriented," sophomore Molly Koca said. "She works very hard and is disciplined. She has always been like, this even as a kid; Caroline would work on her solos for hours perfecting it. Whatever they throw at her, she will work hard to achieve. She will always give 110% and never gives up."
Unger's responsibility as a Scarlet involves performing at football, baseball, basketball and volleyball games.The team is also involved in community outreach and service. If she makes the team in future years, she will be allowed to travel to away games to perform.
"My training has been preparing me my whole life for this," Unger said. "It's a huge accomplishment and I feel so grateful and excited. It's something I've wanted for such a long time."
Unger will work as a UDA (Universal Dance Association) instructor this summer, helping high school dance teams prepare for their season. She will then pursue a degree in Elementary Education. She hopes to someday teach dance part time or even possibly own her own dance studio.
Be sure to watch for Unger on the field at this year's Husker games as she dances into her future.

About the Writer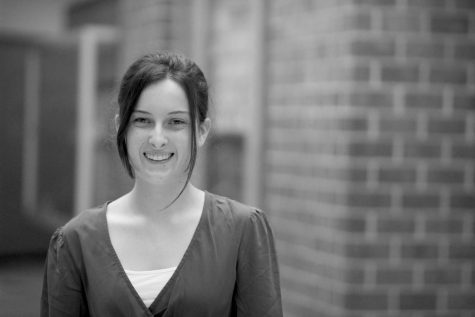 Alexandra Dobesh, Staff Writer
Alexandra is a junior and in her second year of Advanced Journalism. She enjoys writing entertainment and opinion stories. Outside of school, she is involved...