Triple Threat
Sophomore takes the stage and the field as a competitive dancer, varsity show choir member, and running back
Hang on for a minute...we're trying to find some more stories you might like.
Three hours on Monday. Two hours Tuesday. Three hours on Wednesday, Thursday and Saturday. Sophomore Alec Brown spends the majority of his time in the studio at Nebraska Dance as a member of the competition team.
As a dancer for the past 14 years of his life, Brown is very familiar with the stage. Ever since becoming a company member in the 4th grade, he has spent a large portion of his time in rehearsals, at conventions and competing.
Brown was placed in a dance class at the young age of two — partly in response to his troublesome behavior and partly due to his older sister's prior involvement. That first ballet/tap combo class changed his life in more ways than he could have imagined.
Instead of having playdates with other kids his age, he spent hours at the barre perfecting his turnout, pirouettes and grand jetés. Growing up, Brown was picked on for being different than the other boys, but his family and friends were nothing but supportive in the pursuit of his passion.
"When I was younger I was made fun of a lot, but once I got older I realized none of that matters," Brown said. "If I enjoy [dancing] then who's anyone to tell me that I can't do it."
Despite always having a deep love for dance, Brown participated in football up until his sophomore year. He relates learning the plays to learning new choreography, as complexity in artistry was synonymous with complexity on the gridiron. The flexibility he obtained at the studio aided him as a running back and linebacker for several years. Dance helped him throughout his football career in ways that non-ballet dancers would never experience. He is trained in a wide variety of dance styles from hip-hop to ballet, and modern to lyrical.
"My favorite styles are contemporary and tap because both of them are extremely expressive in completely different ways," Brown said.
Because of the vast difference between forms of dance, Brown spends around 15 hours at Nebraska Dance each week.
Two hours on Monday. Two hours Thursday. An hour or two on Friday. Brown spends his time away from the studio at show choir rehearsal — as a sophomore in the varsity group West in the Groove, or WIG.
The connection between competitive dancing and varsity show choir varies, but the expressive, passionate nature is easily retained. While being a dancer has aided him in the retention of choreography, WIG doesn't exactly help at the studio. Singing and dancing together has presented Brown with a new challenge that he readily takes on, allowing him to escape his comfort zone with each additional practice.
He has been able to blend the two arts together through his unique talent in tapping. In the second number of the show choir performance, choreographer Stephen Todd incorporated many extravagant talents to mirror a Broadway-centric style. Brown was immediately selected to perform a tap solo at the front of the stage.
"Tap is interesting because in all other styles of dance, you dance with the music. But in tap you create the music," Brown said. "You can take a song that you've heard a million times and find different ways to move in and out of the rhythms and dead spaces to create a new sound."
His love for tap has translated into his career as a soloist. Each season he competes at least two solo dances, one in contemporary and another in tap.
With the hours of overlap between dance and show choir, Brown has had to make compromises. He trades off nights at different rehearsals, gave up football and ultimately lost sleep and time with friends. His dedication to the arts supersedes anything else in his life, but despite years of hardwork, Brown doesn't plan on continuing dance as a future career. He hopes to major in biomedical sciences and pursue a job in medicine, perhaps with a dance class every now and then.
As a sophomore in high school, Brown has a bright future ahead of him. He ultimately thanks his parents for the success he has had thus far.
"I am very glad that both of my parents, especially my dad, were extremely supportive of me being a dancer," Brown said. "My dad is always there every time I'm on stage."
The support from his family and friends radiates throughout his two similar arts. Brown's involvement in the competitive dancing and show choir world is certainly commendable, as his desire to succeed in both areas creates a challenging, yet rewarding lifestyle. Whether in tap shoes, ballet slippers, or show choir shoes, Brown is certainly at his happiest on the stage.

About the Writer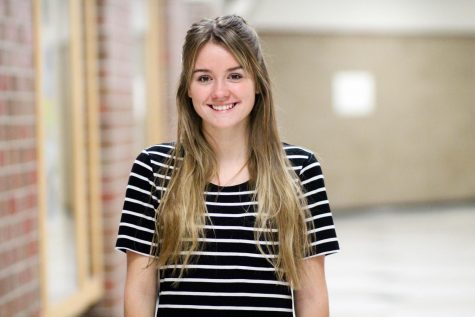 Madelyn Anderson, Opinions Editor
Madelyn is starting her final year at Millard West. This is her first year in journalism and she enjoys writing opinion and feature stories. Madelyn is...