Up and at 'Em
Uptown Girls work hard to prepare for competition
When people think show choir, they typically think of a polished and perfect show full of precise dance moves and beautiful voices harmonizing together in a range of pitches.
But it is so much more than that.
Uptown Girls,  Millard West's varsity women's show choir group, is composed of 54 girls ranging from freshman to seniors, and they practice after school on Wednesdays and Thursdays and before school of Fridays, adding up to about five hours a week. They have to  begin practicing at the beginning of the school year, so they are ready for the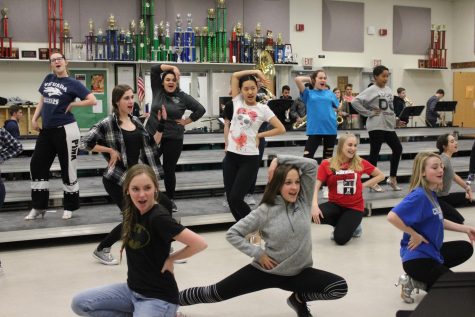 competition season in winter and spring,
"We have to start learning our show early, so we have time to get it cleaned up," sophomore Audrey Koesters said. "The longer you have a show the more comfortable you are performing it. When you're comfortable performing the show you're in, it lets a lot of character shine through, and you can just enjoy the moment."
In order to learn their show, Uptown has two choreography, or choreo, weeks. The first was during the first week of school in August. Practice was from 3:30 p.m. to 9:00 p.m. with only one break for dinner. The second was over Fall Break, and the girls practiced on Wednesday, Thursday and Friday from 11 a.m. to 5 p.m. with no meal breaks. Choreographer Anne Chapman comes to Omaha from Fort Madison, Iowa, to teach these ladies the dance aspect of their show.
"Anne Chapman is spunky, loves our group and sets us up for success," senior Payton Betzold said. "She knows what Uptown is capable of, so she gives us better, harder choreography. Anne is tough on us and works us hard because she knows we can handle it."
Uptown's show is comprised of the songs "It's Coming Up Roses" from "Gypsy," "It's Today" from "Mame," "Diamonds" by Johnnyswim, "Morning Glow" from "Pippin," "Shake the Room" by Gamu and "Carry On" by Diana Ross. The groups director, Zack Bjornsen, selects the music and secures all of the legal rights, and it is arranged by Luke Furman and Brock Keiper.
"We can perform any genre of music," sophomore Summer Liu said. "I like that we always approach different styles with a different feeling. Mr. B does an awesome job at teaching the best way to showcase a song. He takes it slowly and step by step, but it all flows together."
Learning the music involves practicing with their sheet music, special tracks made by the arrangers and outside work. Bjornsen will play the piano, and the girls work through their songs until they eventually have them memorized.
Practices take place in the choir room. They begin with stretches and vocal warm ups. For the remainder of practice,
the group runs through parts of the show in order to perfect the choreography and vocals. Once competition season starts, Bjornsen will use critique from the judges to focus in on the major issues and make tweaks to their show.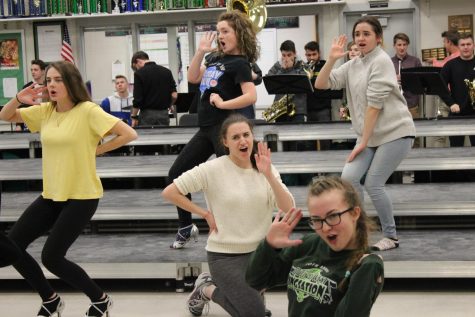 It it is typical for members to be required to come to practice, even on snow days. Some members have to give up activities such as sports or having a part time job. Each member is expected to put in time outside of rehearsals to practice. Participants must also attend Saturday competitions which involve early mornings, long bus rides and late nights.
"Last year I was trying out for soccer at the same time show choir competition season was ending," Koesters said. "I didn't have the same love for soccer as I did show choir. There were soccer tryouts on the day of the last competition, and I wanted to do show choir more because I love performing. It gives me a rush of adrenaline that I couldn't get from soccer. It is worth the commitment and sacrifice."
Bjornsen has been directing the group for eight years. His main goal for the group this season is for Uptown to get better with every performance, regardless of who sees it or how they place. He makes it a priority to create a show that will leave a lasting impression on the audience.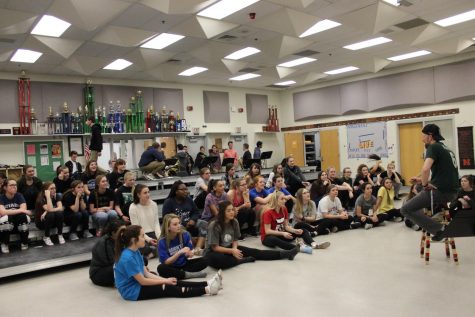 "I have a formula for the show," Bjornsen said. "Each song has its own goals, and you want to have variety. The ballad needs to be very musical, and your opener and closer need to be incredibly impressive. You want to constantly build the energy."
The group's season got off to a great start. They won Grand Champions for the Unisex Division and Third Runner-Up overall at the Midwest Cup Show Choir Invitation in Lincoln, Neb. on Jan. 6th., and First Place for the Unisex Division at Westside's Competition of Excellence on Jan. 27th. Uptown will have four more competitions with an additional performance at the end of their season. Their next competition is Saturday, Feb. 10th at Elkhorn South High School.
About the Contributor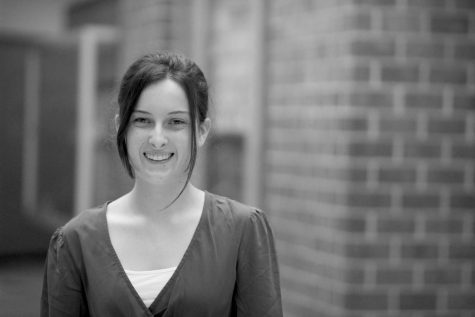 Alexandra Dobesh, Staff Writer
Alexandra is a junior and in her second year of Advanced Journalism. She enjoys writing entertainment and opinion stories. Outside of school, she is involved...