Wildcats win big at Metros
Millard West takes down rival Millard South in championship game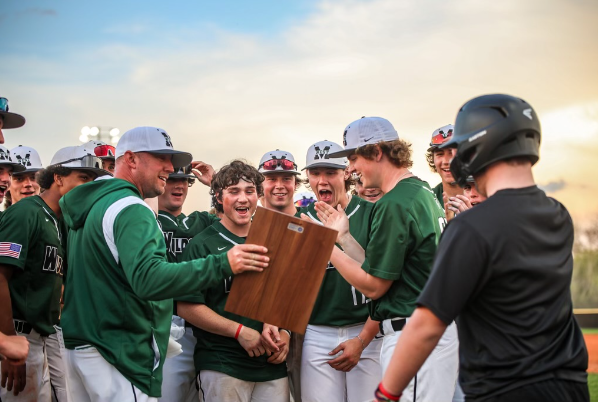 Logan Moseley, Broadcast Editor in Chief, Striv Executive Producer
April 24, 2023
After posting a strong regular season start, going 14-2, Millard West looked to ride with the momentum going into their first game of the Omaha Metro tournament against Omaha Northwest. 
Junior pitcher Drew Lodice got the start on the mound, but things instantly went south, allowing a lead-off triple. Lodice would only pitch for .1 of an inning, nearly going from the top of the order to the bottom, only getting one strike out, and walking one batter.
Head coach Steve Frey then turned to junior pitcher Josh Mulligan to try and clean up what started off as a disastrous inning, as Lodice would be credited with four earned runs. Mulligan was able to fend off a few more batters, as the Huskies put the top ranked Wildcats on upset alert early, after finishing the top of the first 7-0.
"I was not expecting them to put up seven runs in that first inning," senior outfielder/pitcher and Iowa signee Drew Deremer said. "But once we got that third out and sprinted to the dugout, we had a lot more energy and after we put up that three spot, I knew we were going to be fine."
It would take a bit for the Wildcats to claw back from the 7-0 deficit, but the pitching from Mulligan was consistent, and after putting up three runs in both the first and second innings, and two in the third, Millard West took the lead 8-7 going into the fourth. Junior outfielder Ben Sterbens would go on to pitch the final 4.2 innings of the game, and held the Huskies scoreless in a 11-7 win.
Up next was a familiar foe in Omaha Westside, who the team beat in an emotionally fueled game earlier in the year, 7-2. Westside fell victim to the same fate as Omaha Northwest in that matchup, putting up two runs in the first inning, but being held scoreless after.
This time, Millard West was in the driver's seat, as sophomore pitcher Trent Helms started the first two innings scoreless, allowing one run in the third before leaving after the end of the fourth, allowing just one run off of two hits and one walk. He struck out six batters in his outing, which was closed by sophomore pitcher Eli Hoge, who allowed just one run off of one hit. 
The bats stayed hot against the Warriors, as Millard West put up two, four and five runs in the first, second and third innings. That 11 run push heading into the fifth was too much for Westside to mount a comeback, and the Wildcats cruised to a 13-2 win. 
"[Our biggest success] was scoring early, I'd say. We got out there, put the barrel on the ball and put a lot of pressure on other teams and made them fold" junior infielder and Creighton pledge Nick Ventiecher said. "I was expecting to get in at the end of one of these games, and I thought the games would be a littler closer, but we kinda just separated from the others which was nice."
However, Millard West had to face the toughest matchup of them all next; the weather. As rain threatened all of the Omaha Metro area, it put a hold on all matchups until Wednesday, which was five days after their second round matchup. To add on, Millard West had two tough opponents to face on Monday and Tuesday, Millard South on Monday and Lincoln Southwest on Tuesday, which also was the teams senior night. They would go 1-1 in those two matchups falling to Millard South but beating Lincoln Southwest. The coaching staff then faced a big problem. After exhausting their #2 pitcher in senior Caleb Lamphear on Monday and throwing senior first baseman/pitcher Tanner Wilbeck on Tuesday, It would take a lot of things to fall right to be comfortable with their matchup against Elkhorn South at midday on Wednesday. 
To start on the mound in their first of a potential two games was junior outfielder/pitcher Jackson Williams. Williams had shown throughout the season that he could be the guy going into next year, and he proved it once again. He went just around half the game allowing just three runs off of two hits, and getting six K's. Millard West didn't have to worry about the runs again, as they put up four runs in the third inning and five runs in the sixth. The other half of the game saw their ace in Deremer getting action on the mound, allowing just two runs, however putting the Wildcats in a tough position, as he would be ineligible to pitch in the championship game.
"Against Elk South, coach Frey said if he absolutely has to go to me then I would pitch after Jackson Williams," Deremer said. "Originally the plan for me was to pitch against whoever we played in the championship game, but we needed to win that game so he went to me."
They then had to wait for their fate. Play against Creighton Prep, who they beat in their first game of the season 9-4, or play against Millard South, who they lost against two days ago, but also beat earlier in the season 15-0. Fate decided that a rematch of last year's state championship would be in store, as Millard South downed the Jr. Jays, 8-3.
Faced against their biggest rival, and down their ace from the game before, Frey turned to the sophomore who had been turning heads all season, Helms. Helms had shown that he could compete no matter who he was going against, but going up against the third ranked team in the state would be a test for the young gun. 
"We had a lot of fuel from the last time we played, and we needed to get back at them for that last game," Helms said. "I just had to stay tough and go through the same motions, but just against a different team."
The first two innings saw both teams struggle to get anything going, but in the bottom of the third, the Wildcats exploded for five runs in both the third and fourth innings. A potential run rule was in the minds of many, when a team is up 10 after five innings, which is what happened to Omaha Westside in the quarter-finals. But the Patriots were down, but not out quite yet, as they put up three runs in the fifth inning, with two going against Helms. Hoge would come in and finish the inning, but struggled in the sixth inning, leading to him being pulled in favor of Sterbens to come in and finish things off. West couldn't score past the fourth, but it didn't matter as Sterbens was incredible to finish things off, allowing one hit and facing five batters in his 1.1 innings at the mound. 
With the final score being 10-6, Millard West won the Omaha Metro tournament in dominant fashion, cementing the team as one of the favorites to win it all this year.