Programmers dominate
Recent competition brings multiple top five finishers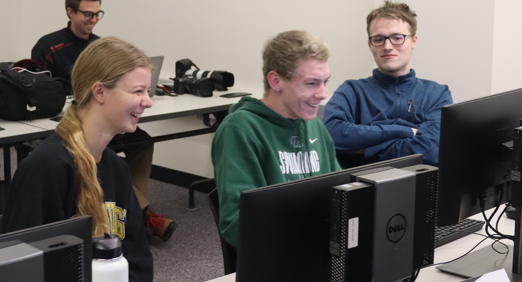 On Dec. 9, during National Computer Science Education Week, the 14th annual Annual Computer Science High School Challenge took place at the University of Nebraska Omaha. It featured a Quiz Bowl as well as the main programming competition. This was the first time we took first place, and on top of that, we also placed second and fifth.
In the main competition, students are given a list of problems to solve and the students will type and submit code. Each team of three was given three hours in the main competition to solve 12 problems. The winning team completed all problems with an entire hour to spare.
"It was really cool to be able to win Millard West's first programming competition," first place finisher and senior Jillian Weland said. "I was happy with how well our team worked together and the prizes were awesome. Our team was very strong compared to some of the other teams so it wasn't as close of a race as I anticipated."
The Quiz Bowl was a much closer competition, however. The team that placed first in the programming competition placed third in the Quiz Bowl. Millard West has won more quiz bowls historically than any other school.
"I am super proud of the kids that competed," Computer Science teacher Ramsey Young said. "We have won other programming competitions and placed in this competition before, but have never won first in this competition."
This competition was dominated by Millard West as three teams placed in the top five as well as the winning team placing third in the quiz bowl. There are many different ways to tackle the 12 questions that each team had as well as knowledge from three different students that would help with the quiz bowl.
"We did have to compete against other students at West," third place finisher and senior Cecilia Beckerbauer said. "The quiz bowl allowed my team to dominate the trivia side of things as we all had mixed knowledge. Being in a team for the quiz bowl also allows for a higher chance to win and bring home that beautiful trophy. With the programming competition, there is a bit more variation. Some teams might only use one computer and work together to solve one problem at a time. Others might split up the work and then consult if they have bugs or errors. It is really up to each team how they work for the programming competition."
This is the first year that all Millard schools competed and there was even a team that was composed of all STEM Academy students, who placed fifth. There was also only one school outside of Millard that placed in the top three, as Bellevue East placed first at the quiz bowl. Millard crushed this competition and it'll be interesting to see the future of computer science competitions.