Funding for the arts
Drama students go to the Capitol to raise awareness of the importance of theater in schools
  The drama department brought 20 students who have a love for theater to the State Capitol to advocate for theater education in schools on March 1. The goal of the Millard West drama department, along with half a dozen schools from across the state, was to spread awareness of the importance of theater curriculums and rally support from elected officials.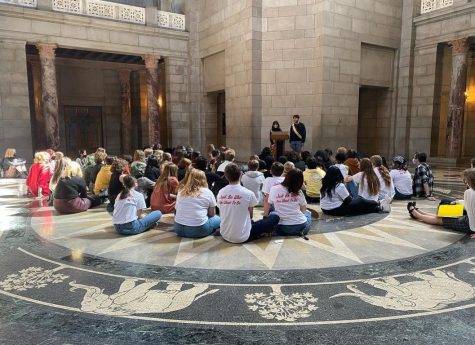 When it comes to funding school theater programs, schools in our state don't have enough to expand their horizons. Theater makes a big impact on those who have the passion for performing arts, were students learn confident communication and celebrate self expression. They were able to speak to Nebraska state senators, in addition to performing a song from Lincoln Southwest's production of "Kinky Boots" that will also be performed at the International Thespian Festival. With the support from the state, students who are into theater get the recognition they need in school systems.
"I believe Advocacy Day is important because theater is really important to me and being able to do theater in a way that is supported by the school is especially important to me," junior Isaiah Helenthal said. "Theater being preserved, supported and celebrated within Nebraska is very beneficial to a lot of students, a lot more students than people really think."
On Sunday Feb. 13, before going to the Capital, students attended a Zoom meeting with the organizer Jennifer Morgan, to learn how to talk to a senator. They also went over the schedule for the day and the questions they would ask.
"The three asks are to advocate to make sure every school in Nebraska is required to teach theater and also certified theater teachers in the schools," drama director Brooke Phillips said. "We believe students deserve to learn from certified educators and we want funds to help those programs."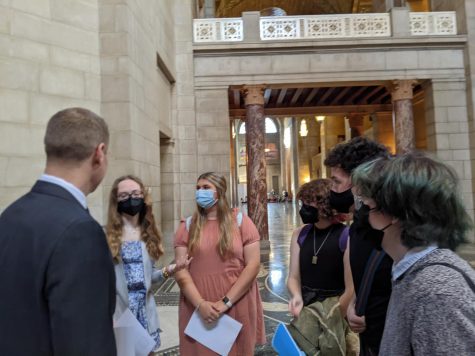 Theater education provides a safe place for all students to be themselves, explore relationships, develop compassion and collaboration with others, but for some schools in our community they struggle with funding. The support of students and teachers going to the Capitol shed a light on performing arts education and its importance, giving students from every school a chance to experience theater.
"At the capital I was able to express how many different experiences theater has taught me over the years," senior Nathan Bigler said. "I think the meeting we had was important because most extracurricular activities have been acknowledged and appreciated by the people who make our laws except for theater. Finally, we are reaching out to people with power who can help our community." 
Our school thespians were able to enjoy going to the Capitol to fight for all schools in need. They make an impact in our community by supporting the performing arts program. With their asks now in the senators' hands, they hope only to grow.