Bringing music to life together
Millard West Orchestra performs with others at the All-Millard Orchestra Festival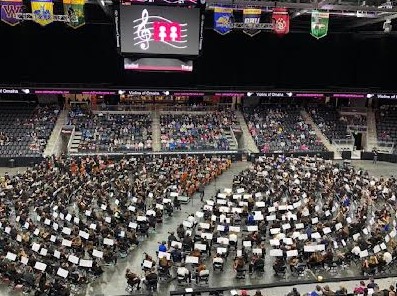 On Jan. 31st, Millard West orchestra performed at Baxter Arena with other Millard orchestras. Combinations of grades eight to twelve play together in two massive orchestra's in an All-Millard orchestra concert. With this big performance about 600 students participated and practiced to perfect their show and display the power of music education in the district for Omaha's community.   
Coming together for this annual concert, the students got the opportunity to perform at Baxter Arena for the first time. Previous years the event was held at Ralston open for the community and where musicians are able to display their music to the public. When separated into two massive orchestra's eighth to ninth graders and tenth to twelve graders performed together. The All-Millard orchestra also got two guest conductors to lead. These two guest composer's changed the atmosphere of the show by contributing their techniques.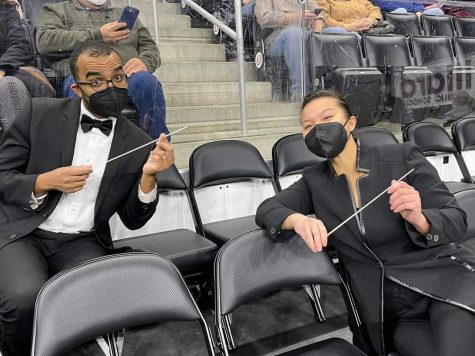 "The guest composers affected the performance a lot," Orchestra teacher Justin Zeleski said. "Any conductor you put in front of the orchestra will change everything. The job of the conductor is to have the vision of how the music is supposed to sound. The musicians adapted and produced the vision, there was a drastic difference from what we practiced before."  
A large number of performers were able to attend the show, unlike other orchestra performances that require auditions, this event is all inclusive so that all students are able to experience the event. For some students this is their first time performing for a large orchestra and getting to know people from other schools. Students also got the opportunities to be engaged in their community during the event.
"I loved practicing and performing music with both Millard North and Millard South, I also got to meet people who can play the same instrument as me and are extremely talented," Millard West Orchestra student Kyla Niiya said. "I also like performing for a large audience because the ambiance is so grand and they are all so supportive."
When tying this all together the event gets help from community sponsors and advocates community involvement. This event also shows the importance of music education in schools. With the help of orchestra teachers and directors Jeanna Dymond from Russell Middle School, Debbie Martinez from Millard North high school, and Nolan Beyer the Millard Executive Director of Activities, Athletics & External Affairs, and Millard families this event is able to bring everyone together to experience beautiful music.
"It is a privilege to be a part of this event every year. The Central Middle School principal, who has attended the All-Millard orchestra Festival for nine years, said this was the best it has ever sounded, and I have to agree with her," Orchestra Director Jeanna Dymond said. "I have also noticed an increase in how much this event brings our Omaha music community together and helps make the students a part of it. Our sponsors are comprised of the Omaha music community, parents of our Millard musicians, and the Millard Foundation, who is a big supporter of the arts as well. Music is thriving in Omaha and the excellent education Millard provides our students helps them become a part of it."
Each year there is an increase of excellence in the students noticed heavily by teacher's and conductors. With the continuation of support from the Millard families and amazing community the students will be able to continue experiencing the excitement of displaying their talent for a large crowd. As music continues to grow in Omaha and in our school community the All-Millard orchestra festival will continue to bring people together.