Premiering at last
Show choir performs following a long hiatus off the stage
Kaden Roth, Catalyst Online Editor-in-Chief
January 25, 2022
After almost two years Millard West show choir took to the stage for their premiere event on Sunday, Jan. 16. All three groups, West in the Groove (WIG), Uptown Girls and Swing Cats (SCATS), performed in front of friends and family as a start to their competition season.
The premiere event is meant to prepare the groups for what a competitive performance would look and feel like. This trial run is especially helpful for those who have never performed before or have nerves about performing in front of a live audience. Due to the connection between the performers and their audience, the auditorium is filled with an atmosphere of comfort and familiarity, allowing the groups a chance to have fun with their shows and each other.
"This performance is like a trial run, but it's mostly fun," senior WIG member Ally Dunne said. "What we usually look for is how the audience reacts and how we feel on stage. It's fun to see our family invest in the show and have a good time. As performers, we have a better idea of what to work on when we are in that performing environment and how to problem-solve."
Although the event was highly anticipated by each member of the show choir, the night was particularly special for seniors who haven't been able to experience a relatively normal competition since their sophomore year. Last year the premiere event was scaled back in size and show choirs performed in matching shirts rather than full outfits.
"I'm excited to be able to compete again after COVID shut down the program for a little over a year," senior Kayla Hamaker said. "I've missed being able to watch West's other groups and cheer them on as well as seeing other school's talented groups. In general, I am just excited to be returning to what competition seasons used to look like."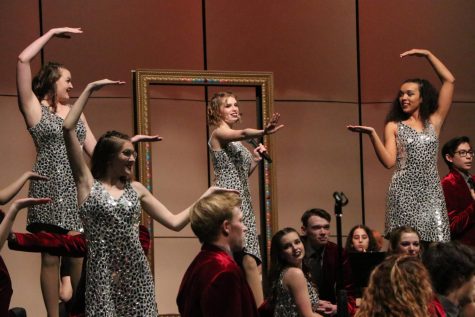 Many of the underclassman members were able to use the event as a base for what a normal competition would look and feel like. Since they have yet to compete in a normal high school show choir competition, premiere offered a comfortable place to prepare for future performances.
"I think that premiere gave me, personally, and us as a group an idea of what we needed to work on and improve on," sophomore WIG member Evan Schneider said. "It also showed us what we can do and built our confidence for the upcoming competitions. I feel very confident for the next competition and am excited to perform."
The hard work put in by all three groups was apparent to choir director Jordan Newhouse who worked to prepare each show choir for their first performance.
"I think each group did great," Newhouse said. "The most important thing is that there was tremendous growth within each group between the 2:30 p.m. show and the 5:00 p.m. show. After not being in show choir for two years I think we've forgotten how much we can push ourselves, so I'm excited for them to see their improvement."
Previous years were filled with restrictions, cancellations and letdowns, but this year's seniors are determined to make the most out of what time they have left.
"I am most looking forward to competing for the first time since my sophomore year," Dunne said. "It has been a long time. I am making it my goal to have every performance mean something and to not take any for granted. We never know when the season may end, especially as a senior."
The drive of these seniors and the other members of the group's show was put on display at the premiere, demonstrating their commitment to putting their best foot forward this competition season.
"SCATS is very impressive for a prep group," Newhouse said. "They have a fun show but they actually improved and got cleaner, and we could hear them better at the 5:00 show. "The girls also really exceeded my expectations with both shows, but the last show was the best they had ever done. WIG performed as if it was a preliminary performance and then a final performance which is a very exciting, energetic thing, so the fact that they showed growth that quickly in an afternoon, without much practice or some kind of halftime pep talk, means we're going to be absolutely fine the rest of the season."
Premiere was the show choir's kick-off event for their competition season, and with the energy and enthusiasm each group brought, their first season back following COVID-19 is sure to be a success.