Switching sidelines: Class A to Division One
Senior cheerleader makes the Husker Pep Squad
With high school wrapping up, so does the end of many senior athletes' athletic careers. Many will further their education and focus on their studies and futures ahead of them over playing competitive sports in college. However, a select few don't want to give up what they love quite yet, including senior cheerleader Delaney Cutler. 
Cutler competed in gymnastics from the age of 7 up until high school when she decided she wanted to shift gears and try out cheerleading instead. Making the JV sideline squad her freshman year as well as the varsity competition team – a rare feat – she was already making strides within Millard West Cheer's program. Her sophomore through senior years she cheered on the Varsity sideline and kept competing on the varsity competition team. 
"When I came into the program, I knew absolutely nothing about cheer except that you did some jumps and yelled at fans," Cutler said. "The coaches took the time to teach me proper motions and technique for my skills. They also showed me how to lead the crowd and get them involved. Along with all the fundamentals, the program has taught me how to be a leader, a teammate and a role model."
Reflecting on her time as a Millard West cheerleader, Cutler decided to take on a grueling try out process again, this time for the University of Nebraska Lincoln's Pep Squad. Skilled cheerleaders from all over would compete against each other for the limited number of open spots. The virtual tryout process consisted of three rounds: stunts and tumbling, cheers and band dances and the finalist round. A simple email informed the contender of their possible success after every round. Cutler surpassed each and was announced as a member on May 3. 
"It's difficult to describe, but it just feels like your hopes and dreams have finally come true, that all the work was worth it," Cutler said. "I was constantly refreshing instagram trying to see the post as soon as it came out. When it finally did, I screamed so loud and ran downstairs to tell my parents. When I was hugging my mom, I had to look at my phone again to make sure it was still my name on the list. It's insane."
However, Delaney's achievement wasn't due to luck. Her huge support system made up of family, cheerleaders, coaches and friends know otherwise. 
"Delaney is the hardest worker I know," varsity teammate and junior Audrey Frohloff said. "She always stays so focused but can have fun when time allows. She constantly stays positive and has the best energy on the team, which will help her so much at UNL."
Her support system constantly describes Delaney as preserving and self-motivated and will continue to encourage her throughout her cheer journey at UNL. Her biggest support however comes from her mom and dad – who were full of excitement for their daughter when they found out she made the team.
"Honestly, we have not had to push Delaney —  she pushes herself," mother Shelly Cutler said. "She approaches everything she does with such focus determination and organization, and her enthusiasm helps to set her apart."
Delaney has been writing out her own workouts for the past several years and continues to push herself to become stronger. With all of her determination she has had to sacrifice some things like social events in order to balance cheer, working as a lifeguard, school and the health and sciences academy to continue improving her skills. 
Delaney's accomplishments will not end here, as she plans on majoring in pre-med while cheering on UNL's squad and is determined to succeed at the next level.
About the Writer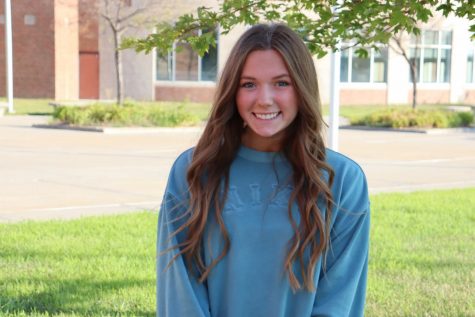 Jenna Reynolds, Features Editor, co-anchor MWHS Wildcat News
Jenna is a senior at Millard West and this is her second year on the Advanced Journalism staff. Her favorite part of Journalism is filming and editing...