A striking young athlete
Senior bowler recognized on multiple occasions
Emma Baker, Catalyst Editor-in-Chief
April 28, 2021
For years, the Dickmeyer family of seven spent their summers at bowling alleys, participating in the national Kids Bowl Free program. During the summer before her freshman year, the game got just a little more serious for now senior Kaitlyn Dickmeyer.
With a love for the lanes and a growing annoyance at the gutter guards her younger siblings required, Kaitlyn set out on her own athletic pursuit, beginning bowling lessons with talented former Cornhusker bowler, Jamie Rangel. Kaitlyn learned how to hold the ball right, use the dots on the lane to target the pins and how to approach the hardwood with confidence.
"Her average, from the beginning of the summer to the end of the summer went from an 80 to maybe a 130," Kaitlyn's mother Heidi Dickmeyer said. "She improved really quick, and Jamie was impressed with her attention and just how well she was doing."
During her freshman, sophomore and junior year, Kaitlyn honed her skills on Millard West's club team. It wasn't until this school year that the Nebraska School Activities Association sanctioned bowling as an official winter sport; Rangel followed Kaitlyn, taking the position of West's assistant coach.
From there, Kaitlyn's history-making began.
She led her team — as the anchor or the best bowler on the team — to a win at the Metro Conference and second place at both Districts and State. Having played basketball, softball and soccer before, Kaitlyn has a competitive and athletic nature that got her right to the top.
"She was the only veteran that had been playing for West so long," sophomore teammate Emily Ciesielski said. "I think her determination really makes her a good part of the team. Even when we would have a bad day, she was always so positive, and she would still do her best and keep pushing."
Kaitlyn's been such a force in the young Omaha bowling community that, on Tuesday, April 13, she was nominated by head coach Megan Smith and then recognized by the Greater Omaha Sports Committee as the very first Scholar Athlete for girls bowling. The luncheon — featuring guest speakers and plaques for the athletes —  recognized some popular names from this winter season, such as Millard North's Hunter Sallis, making the award an impressive honor. 
"I'm so proud of Kaitlyn for her success and her plans to continue to pursue bowling at the collegiate level," Smith said. "Kaitlyn is extremely coachable. She is willing to try anything we ask her to do, and she works hard to do it well. Kaitlyn is pretty quiet, and she doesn't love the spotlight, but she emerged as the leader of her team. Her positivity and mirth are magnetic —  you can't help but want to be around her — and her bowling experience and ability made her a valuable asset for her teammates."
The next day, April 14, her history-making accomplishments continued.
Kaitlyn became the first in Millard West's history to sign a letter of intent to play bowling at the collegiate level. This fall, Kaitlyn will join the College of Saint Mary Flames here in Omaha on a scholarship. The opportunity is one she looks forward to, not only to further get out of her shell, make new friends and travel but also to keep growing her skills and passion for the game.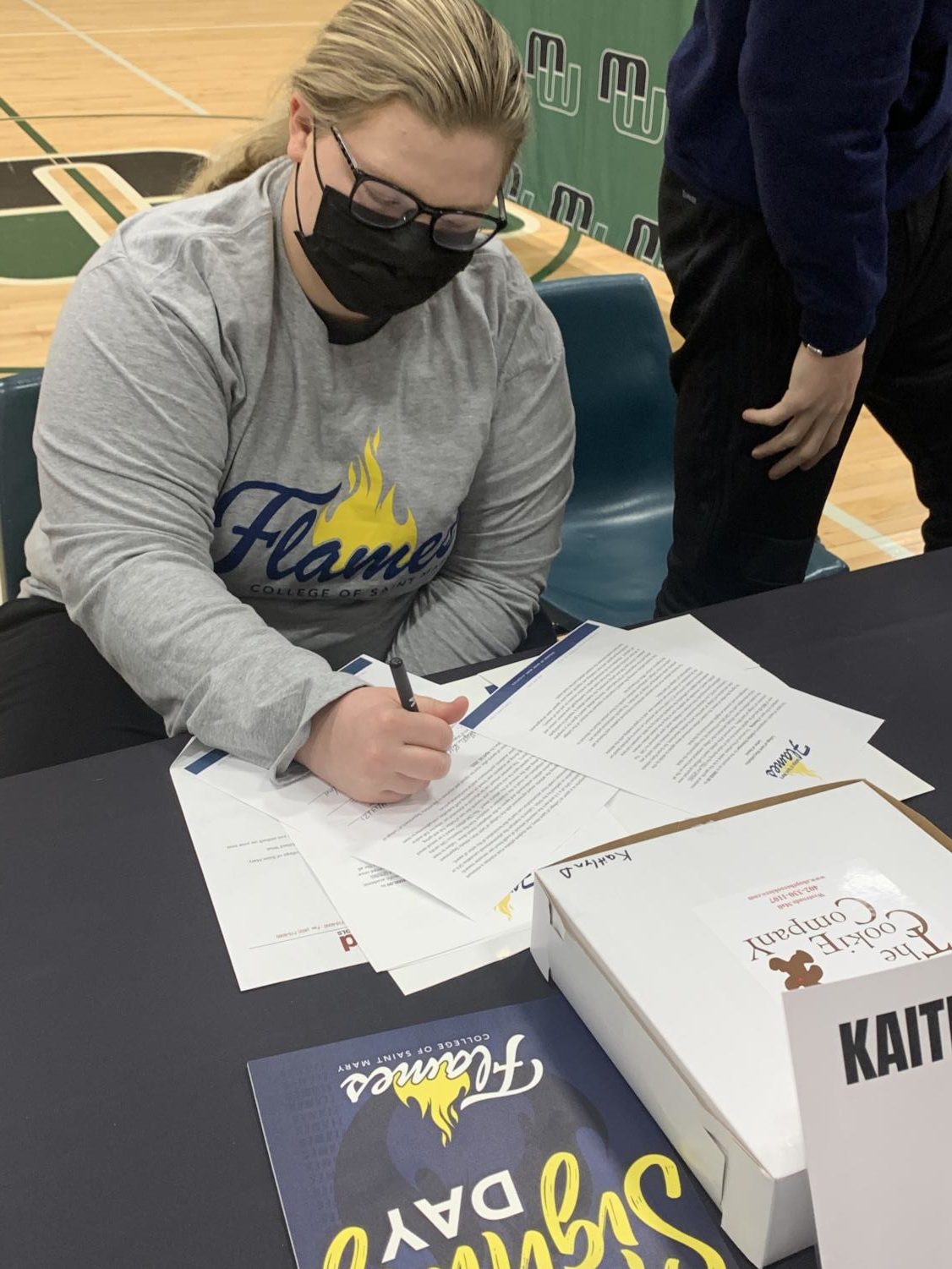 "I have always enjoyed [bowling], even before I started doing lessons," Kaitlyn said. "But after I got to learn how to do the sport and all the techniques, I fell in love with it. It's kind of cheesy, but it's true."
After college, Kaitlyn plans on sticking to bowling as (at the very least) a hobby and wants to come back to West one day to help coach future teams. Until then, she'll remain in the history books as one of the first NSAA sanctioned girls bowlers, the first girls Athlete Scholar and the first to sign for bowling at West, serving as a reminder that when you put your mind to it, almost anything is possible.