Soon to be in service
Seniors plan to go into military after high school
Now is the time of year when seniors finalize plans for their education and career after high school. While some are wrapping up their final applications, receiving decisions from universities and preparing for another few years of essays and lectures, others, like seniors Aiden Schollmeyer and Dominic Dubas, are studying for military qualification tests, taking enlistment oaths and preparing to go into basic training. 
Schollmeyer has been drawn to the military since childhood; family and friends recall him talking about it nonstop as far back as elementary school. As he started to think more about which path he wanted to take, service was the natural choice. 
"It was actually one of my friends who is in the Navy right now who inspired me," Schollmeyer said. "I've always wanted to. My parents talk a lot about how as a kid, I was constantly thinking about it."
Besides being his dream career since childhood, the military will also offer Schollmeyer opportunities that he won't be able to find elsewhere. While his initial plan was to join the Marines, he feels the Navy will be the best place to start his military profession. It will give him the chance to potentially join the Naval Academy, where he can build character out of high school. Along with developing his skills in communication, discipline, problem-solving and leadership, it will allow him to expand his worldview. 
"I've always wanted to serve my country, and I don't see myself doing anything else in my future," Schollmeyer said. "I feel like it will shape me for the better and show me a new side of the world I haven't seen just yet."
Dubas' decision to pursue a post-high school career in the military came a little later than Schollmeyer's; for him, it didn't become a serious thought until his senior year. Like Schollmeyer, he decided it was the best option for him because of the opportunities that it offers to young people entering adulthood. 
"There are many great experiences you get from the military," Dubas said. "You can travel to different countries and states. I will be more independent and not rely on my parents. I also want to challenge myself in boot camp to learn to be more disciplined and become a better person."
On top of the chance to travel and be more independent, Dubas is excited about the doors that this will open in his future career. Since he plans to go into firefighting, he has decided to join the Air Force, where he will be able to develop skills that align with his plans for down the road. 
"To be a paid firefighter is very competitive," Dubas said. "I have an opportunity to do fire protection in the Air Force. I listed that as my number one job, but there is limited availability. If I don't get the job I could cross-train to become a firefighter."
Even though he isn't taking the traditional route, Dubas still plans on continuing his education during his enlistment. The military will help with education expenses, and the credits he has already earned in high school from Metro's Fire Science Academy will allow him to join at a rank higher than the initial rank for an enlisted soldier coming out of basic training. 
"I already have a lot of college credits with my career academy, and I am taking a bunch of other classes at Metro," Dubas said. "I will be at a higher rank when I join because I meet the amount of college credits needed. I will join as an e3 instead of e1 and be able to make more money."
The journey to enlist was long. For Dubas, it started with FaceTime with a recruiter. Over the phone, they discussed the qualifications for joining and whether the Air Force was the right fit for him. From there, it was a long series of aptitude tests, medical assessments and paperwork. He took the online PiCAT test, which is an unproctored and untimed exam similar to the multiple-choice Armed Services Vocational Aptitude Battery (ASVAB) test that determines qualification for enlistment. After that, he had to prepare for his in-person enlistment process. 
"The day before I went to enlist I had a long meeting with my recruiter because, if you do something wrong, it makes you not eligible for the military," Dubas said. "I also had to make a list of what jobs I wanted to do. It was kind of stressful to think about what jobs you would want to do in one day. My grandpa was in the Air Force for a long time so he gave me some advice. I also did lots of research."
Then, it was time for Dubas to take a trip to the Military Entrance Processing Station (MEPS) to verify his PiCAT results and complete further testing. After eating a light breakfast and filling out a COVID-19 form, he showed up early in the morning for a long day of testing at MEPS. 
Once he had passed the verification test, there was a long wait for the next two tests, including a 100-question personality quiz. Dubas also had to complete intensive medical exams to ensure he would be able to handle the physical requirements of training and working in the military. There were exams for depth perception, eyesight and hearing along with blood tests, drug tests and blood pressure tests. 
"You have to be very healthy to get past it," Dubas said. "Something they made a big deal about was that I had tubes in my ear, but luckily I made it through. After I swore in, I was pretty much good to go. It was about 10 hours long; I think I left there at about four in the afternoon."
Schollmeyer is also dealing with a long enlistment process. Because he hopes to attend the Naval Academy, he is in the middle of an application process that includes an initial application, a fitness test, a medical exam, a congressman's nomination and a final application. 
He has plans to either serve for eight years before going on to med school or serve 20 years. His current picks for military jobs are surface warfare officer or explosive ordnance disposal. He hopes to graduate with a bachelor's in science from the Naval Academy and pursue a career as a thoracic surgeon later. 
Dubas, for the time being, is signed on to do four years in the military. While he isn't sure yet exactly what position he will end up in, he hopes to work in fire protection or as a loadmaster in the Air Force. 
Though the process to enlist was long and intensive, both seniors are excited for the opportunities the military will offer them as they enter adulthood. 
About the Writer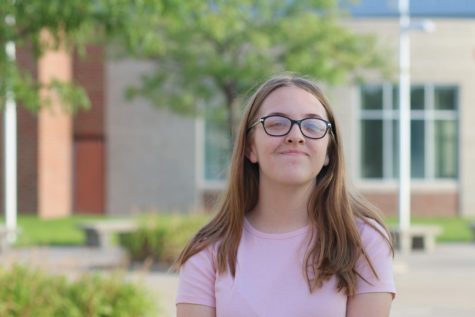 Morgan Weir, Opinions Editor
Morgan is a junior returning for her second year on staff. She has a lot of opinions and loves sharing them through her writing. In her free time, you'll...