Television's next mother-daughter duo
"Ginny and Georgia" hits the new Netflix releases scene
When sentenced to a couple days of bed rest due to getting my wisdom teeth removed, I immediately turned to water, Ibuprofen and something to binge on Netflix. I had heard some internet buzz over the new Netflix series "Ginny and Georgia" and decided to give it a try. While the show definitely had its flaws, it was the perfect series to keep me entertained and distracted for a few days.
"Ginny and Georgia" follows 15-year-old Ginny (Antonia Gentry) and her mother, Georgia (Brianne Howey) as they try to settle down in Wellsbury, Massachusetts, after the mysterious passing of Georgia's husband due to an assumed heart attack. The show follows a typical mother-daughter plot. A bulk of the storyline follows how Georgia had Ginny at only 15, and Georgia struggling to raise Ginny and her younger son Austin (Diesel La Torraca), despite her own troubled past. Along the way, both Ginny and Georgia find many friendly faces as well as enemies in the town of Wellsbury and must navigate through it all.
While some might chalk the show up to an off-brand "Gilmore Girls," I find that the series has a lot more underlying depth and darkness than that. Throughout the season, many flashbacks reveal Georgia's life as a 15-year-old girl trying to escape her abusive stepfather and ending up pregnant with Ginny along the way. Her experiences as a teenager follow her into the present-day of the show, where she struggles to hide the truth from her kids in their new home. From murder to robbery, Georgia has a lot of skeletons in her closet that create tension between her and Ginny who feels as if she can no longer trust her mother.
While Georgia's life is filled with mysteries and scandals, Ginny's is more mundane and her constant negative attitude annoyed me while watching the show. From the very start of the first episode, I could tell Ginny was going to be the typical angsty, coming-of-age teenager that most young adult shows opt for. From her all-black attire to her "stick it to the man" attitude, I could tell that it was going to be very difficult for me to warm up to the main character of the show. However, as the episodes progressed, I was able to identify with Ginny a bit more as I saw her desire for stability in her life and for a solid group of people she could depend on. It is very apparent throughout the show that Ginny has grown up in an unstable environment due to her mom's mischief and that it has led her to have an abundance of trust issues.
My main problem with this show is that each episode was packed full of so many plot lines that it felt like an overstuffed haggis. The bright and cheery theme song gives the appearance of a typical lighthearted teenage drama, but the episodes themselves delve into some heavier topics such as abuse, racism and sexism. While Ginny's story appears to follow a traditional coming-of-age show, Georgia's has a lot more dark plot lines and mysteries to uncover.
Also, there were so many love triangles throughout the show that it was hard to keep up. From the beginning, it is apparent that the relationship the audience is supposed to be rooting for is Ginny and Marcus (Felix Mallard). However, that relationship gets very rocky once Ginny befriends Marcus's twin sister Max (Sara Waisglass) and starts dating Max's friend Hunter (Mason Temple). Georgia is referenced to have had a complicated relationship with men throughout the series and it apparent through her budding romance with Wellsbury's mayor, Paul Randolph (Scott Porter), passing fling with Ginny's father, Zion (Nathan Mitchell) and spark with the owner of a local diner, Joe (Raymond Ablack). There are so many relationships to keep up with throughout the series, and it's difficult to know which ones the audience is supposed to be rooting for.
Overall, despite the overwhelming amount of plotlines to keep up with, "Ginny and Georgia" is still the top watch of the season. Each episode is compelling, and I never once found myself getting bored or wanting to watch something else. Also, the show covers a lot of topics not commonly spoken about in other series such as Ginny's struggle growing up as a mixed girl with a broken family. With only ten episodes so far, "Ginny and Georgia" is definitely worth watching.
About the Writer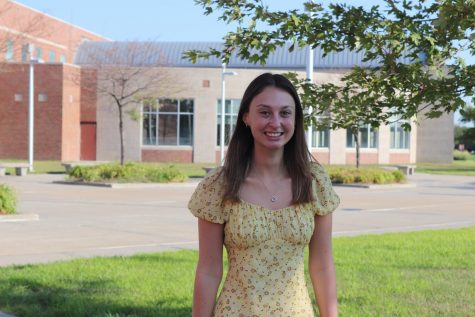 Anna Blumenthal, Entertainment Editor
Anna is a senior at Millard West and is returning for her second year on the Catalyst staff. She loves having an outlet to express her views on the world...