The integrity of sports teams
The dirty routines teams use to win
Sports have been America's pastime for over half a century now, and with the expansion of teams, the crumbling of start-up leagues and the dynasties that have come with it, many people have fallen in love with a player or a team. Now, a potentially troubling trend is popping up, and sadly it has become more and more common. Tanking, Super-Teams and scandals, are the new trends that are sadly plaguing the games we know and love.
Roster management could be classified into three categories with different subsets: The first is tanking. Many people outside the sports community would not know what tanking is, but the overall concept is to blow everything up. Ship off key pieces of talent for players or draft picks. It is meant to provide a complete 180 to send a team to a winning record or even the playoffs. A perfect example of this is the 2019 Miami Dolphins. Over the offseason the team decided to part ways with key pieces of the roster like head coach Adam Gase, quarterback Ryan Tannehill, and Edge Cameron Wake. They then hired new head coach Brian Flores. Then, the art of the tank commenced. Before they got their first win, the team was outscored 238-77, and was outscored 102-10 in the first two weeks. It was a glorious tank for one man, Tua Tagovailoa. While the first overall pick was not gained, they still got Tua, and went big in Free Agency, getting veteran players like linebacker Kyle Van Noy, edge Emmanuel Ogbah, and cornerback Byron Jones.
While the '19 Dolphins is an extreme example, tanking does not always work, which is why the next way a front office tries to change a team's fortune is through free agency. The 2020 Brooklyn Nets did just that. They decided to make two huge splashes in Free agency, by gaining former #1 overall pick, Kyrie Irving, the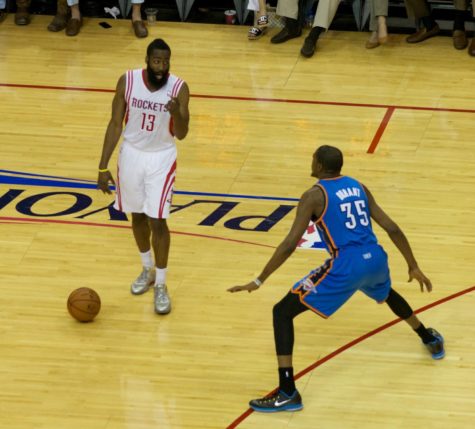 n a year later, former league MVP and Finals MVP, Kevin Durant. While both were on the court, the team had a good dynamic, but no one would expect what was to happen in the coming weeks. 
While Brooklyn was looking good for the first time in a while, Houston had a problem, and mission control was about to take a hard hit. Former MVP James Harden wanted out of Houston, after the Rockets traded former league MVP Russell Westbrook, after a failed one year experiment. Harden, nearing the tailend of his storied career, wanted to get a ring, and he said his top spot was Brooklyn. A couple of weeks later, a blockbuster trade happened that sent James Harden to the Brooklyn Nets, along with a 2024 second round pick. The Rockets got Victor Olidpio from the Indiana Pacers, Dante Exum from the Cleveland Cavaliers, Rodions Kurucs from the Nets and seven picks from various other teams. The Pacers got Caris LeVert and a 2023 second round pick, while the Cavaliers got Jarret Allen and Taurean Prince from the Nets. The trade showed immediate impact for all sides of the trade, but Brooklyn had its big three, and there was no looking back. 
Fast forward to March 5th, and a new storyline was brewing. Former All Pro Blake Griffin was bought out by the Detroit Pistons, and instantly a new string was being connected on the pinboard of madness. (If you have never heard or watched Blake Griffin, watch these highlights from his prime) A day later, he signed with the Nets and is now expecting that Blake Griffin will have a career resurgence in Brooklyn, he has not played a minute yet on his new team. The big reason why this new super-team is concerning, is how they got it. While the Warriors of years past had developed,signed and traded players for their rings, the Nets are "buying a championship". It brings the fun out of watching a team, if you already know that they are going to win.

Knowing that building super teams is how teams wanted to play the roster making game, leagues introduced the salary cap, an allowance on how much money a team can spend per year for players. While the Los Angeles Rams and New England Patriots are known for their manipulation of the cap, other teams don't go down a route as lucky. The MLB does not have a salary cap, and that is why you will see obscene contracts out of the MLB, and not the NBA and NFL.
The next problem with sports teams is the scandals that occur with a coaching staff, or the entire team. Scandals can riddle everything in the world, but when people are regularly getting paid millions of dollars to play a child's sport, it really puts things into perspective. The most notable scandal of the past 20 years in the sports community was deflategate, a scandal where the New England Patriots were accused of deflating footballs to make it easier to catch and run with the ball. The alleged incident happened against the Indianapolis Colts, in a playoff game that the Patriots ended up winning 45-7. This sent the Patriots to the Super Bowl where they squared off against the Seattle Seahawks. This led to one of the greatest sports calls in the history of sports. 
While deflating a football is harmless, it doesn't compare to the New Orleans Saints Super Bowl run back in 2009. Defensive coordinator Greg Williams and head coach Sean Payton paired together to make a terrorizing, and bruising defense, but in one of the worst ways imaginable. "Bountygate" as it was coined, was an intentional scheme of defense that lead to players on opposing teams having a bounty on their head, and if they got knocked out of the game, they would receive a game bonus. Greg Williams was suspended indefinitely, Sean Peyton received a suspension and fine, and the Saints lost draft picks. 
The final scandal is my personal favorite, not because it led to players getting hurt or getting to make jokes against Tom Brady, but because it ended up never working for one party, and while it has no official name, I have dubbed it, "McScandal". While the specifics of McScandal is still shady, the long story short is that Tennessee had a struggling football team, and they wanted players to commit to Tennessee, and they attempted to do so by giving players money in McDonalds bags. It violated NCAA rules, and the sides of Tennessee have stepped down, but the funny thing is, Tennessee's plan never fully worked. They got the recruits, but wasted the talent they had. It goes to show that cheating doesn't always work.