English teacher Michael Catron wins distinguished award
The instructor was recognized as a Claes Nobel Educator of Distinction
Edison Geiler, MWHS Wildcat News Editor-in-Chief, co-anchor MWHS Wildcat News
November 20, 2020
The National Society of High School Scholars selected English teacher Michael Catron as a Claes Nobel Educator of Distinction on October 9. This award recognizes role models and instructors who encourage students to strive for excellence in and out of the classroom. 
While applying as an ambassador to the organization, senior Himanshu Gandhi nominated Catron for the award after taking AP Language and Composition. In order to send in the nomination, Gandhi wrote about how Catron should receive the award and how his teachings made an impact.
"He wasn't just a teacher to me, he was more of a mentor," Gandhi said. "He didn't just lecture and hand out worksheets and assign readings, he connected everything we learned to the real world and taught us how to actually apply the skills we learned to our future endeavors."
Catron is teaching his 16th year at Millard West, with stints in Japan and Lincoln totaling his educational experience to 22 years. He instructs Advanced Placement Language and Composition, Advanced Placement Literature and Composition, Creative Writing and English 11, while also assistant directing the theatre department's plays. NSHSS presently surprised Catron by sending a package with a sticker and certificate included inside.
"I think students appreciate their teachers a lot more often than they ever say out loud," Catron said. "It's nice when any student goes out of his or her way after a class ends to sort of just express gratitude and appreciation. I'm much more interested in having evidence of a student carrying something they learned in class with them."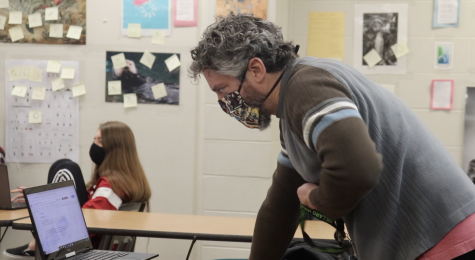 Not only do students, like Gandhi, appreciate how Catron teaches in his classes, but also the administration values his ability to make meaningful lesson plans every day.
"He puts a lot of effort into making sure they are learning and growing," assistant principal Dr. Jennifer Allen said. "He will plan every lesson with the best interest of the students in mind. I always tell him I'm jealous I didn't get to have him as a teacher when I was in high school."
Catron aims to teach students to explore the world around them by researching and analyzing meaningful questions, hopefully translating those skills into post-high school life.
"Students don't have to be passive receptacles for whatever school is telling them they need to learn," Catron said. "Certainly students need to learn what we ask of them, but that doesn't mean that students shouldn't think beyond that. To ask 'Why does society deem this is what I should learn?' and to ask those questions when they become adults and citizens, to not necessarily accept circumstances as inevitable, but then to also have the capacity of research and communication to try to make the world they live in a more desirable place by engaging audiences and arguing for the kinds of change they would like to see."
Almost 50,000 instructors worldwide received this distinction since 2007, and Catron will be eligible to compete for the NSHSS Educator of the Year award; however, his main focus is on making sure his students have the necessary skills to give meaningful contributions to their communities in the future.