More faux me
A vegan twist on a classic, Fauxmaha makes an inclusive meal for all to eat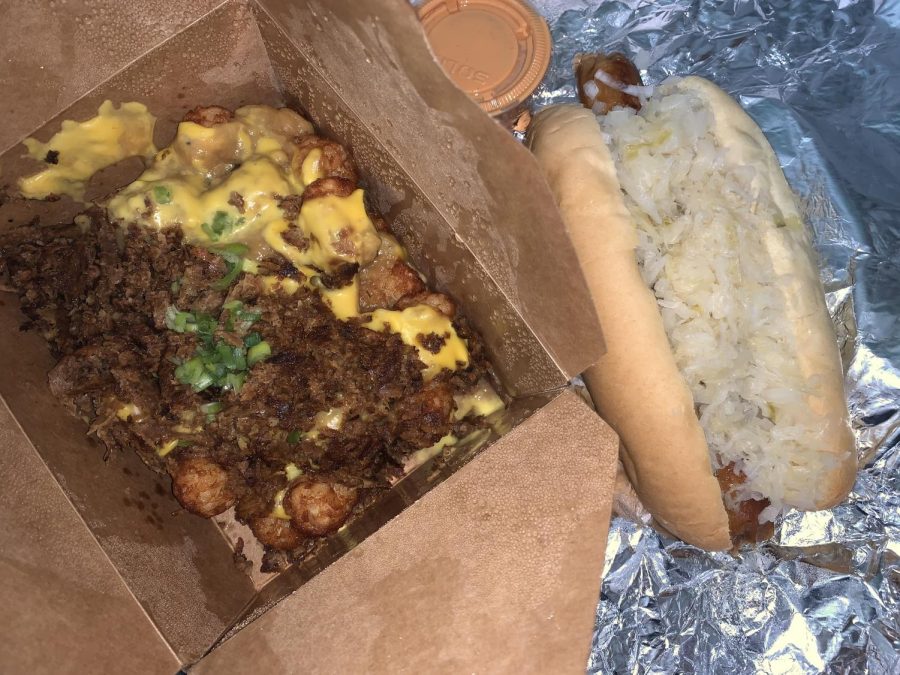 Off of 50th and Center, Fauxmaha opened their doors in August of 2019 to show Omaha what a real vegan meal is. Finding above-average meals for the animal-product-less in the midwest is not easy as it is plentiful of livestock, but vegans, vegetarians and all alike can now rejoice with the new baseball-day classic from our own city. 
The Fauxmaha Facebook page details everything anyone needs to know about their restaurant. New hours during social distancing are posted as well as the menu and new to-go meals. Although a one-page document, the options are flexible. Various meat substitutions are used including seitan, a wheat gluten meal replacement, tempeh and white bean sausage patties, and their customer favorite, the ½ pound hot dog.
After briefly analyzing their straightforward menu, I decided to order the Classic Fauxmaha Dog for $6 topped with sauerkraut and onion and the brand new Poutine with vegan cheese, tater tots, gravy and grilled seitan for $8.50 with a side of fox sauce for an extra $.50. Only $15 for what could feed two very hungry people is a good deal to me, excluding the tip which should always be given.
In the current state of the world, restaurants do not fall short of social distancing guidelines, so I waited in my car for contactless pickup and paid over the phone. The employee I spoke to was incredibly kind as it was refreshing to speak to someone that knew the importance of safe pickup and the love for an untraditional yet traditional meal. 
As soon as I got home, set up my desk and washed my hands, I dug in. With so much anticipation from the hyped-up reviews my friends gave and the looming scent I sat with for the drive home, the hot dog was incredibly worth it. It was interesting to retaste something I hadn't had in 5 years, a bit like a blast from the past with a few additional savory flavors.
The German in me knew I would enjoy the sauerkraut and man, oh man I was right. Personally, I find it the slightest bit unsettling to eat something soy-based or otherwise with such a meaty flavor so being able to taste it with an already accustomed relish-like sauerkraut was the perfect combo for me. The heavy-duty dog was not weirdly juicy or dry, the perfect consistency that didn't make me feel uncomfortable. The bun was plain, as expected from any good hot dog, and not dry at all. I find pleasure in knowing that the ingredients are well taken care of and not left to become stale.
I decided last minute to get the Poutine, a Canadian classic that I've loved and missed since my trip to the land up North. The flavor is hard to describe considering it wasn't at all bad but also not the traditional flavor profile of the gravy, cheese and fry dish. Tater tots are not the usual potato base, but it served the restaurant well, and I'm not sure I've had such a convincing gravy since the last time I had the real thing. The grilled seitan on top was delicious, better than other types I've tried, but it was hard to separate it from the Poutine itself. I would suggest asking for it with less seitan or none if you want the more authentic taste.
Out of curiosity, I included the fox sauce in my order which ended up being a brilliant idea. It was a sort of hot sauce that I tried with both dishes. I was able to conclude that it was perfect for the hot dog. I didn't need any ketchup or added condiments, the fox sauce did all.
As all the hype continues to bubble, I stand behind their incredible hot dog and will continue to go back for that feel-good throwback. I don't think I'll get the poutine again only because the dog was filling enough and had the perfect flavor profile. Vegan or not, Fauxmaha is a delicious and affordable option for anyone looking for a scrumptious meal.
About the Contributor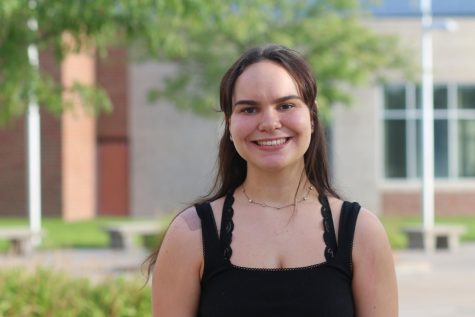 Olivia Oeth, News Director
Olivia Oeth is a senior and new to the journalism team, but is excited to make new friends. She loves her job at Scooter's and hanging out with friends....