FALLing for Vala's
The pumpkin patch has finally opened for the season causing excitement for many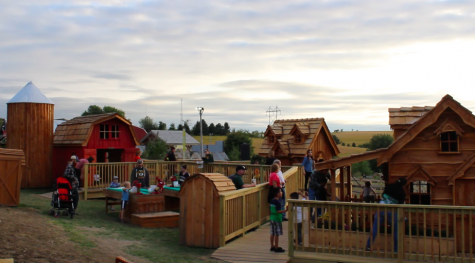 Pumpkins larger than small children can hold, caramel apples that never fail to leave a sticky residue on anyone and everyone's faces and the sweet, salty sensation of homemade kettle corn.
From it's opening date in mid-September until Halloween, the warm September days to the frigid October nights, Vala's never fails to be packed with people of all ages.
Children, adults and everyone in between can be seen walking around the busy farmland. With attractions like the pumpkin cannon and the colossal slides, everyone can find enjoyment in, it's no wonder why so many look forward to the opening day of Vala's each and every fall.
Year after year, the pumpkin patch continues to live up to expectations. With friendly faces, the mouth-watering food and the endless activities are what keeps people coming. Whether it's the haunted farm house, bounce pillows or corn maze. There is much more than meets the eye at Vala's.
Once the welcome sign is in sight, so is the aroma of  fall scents. The smoke of bonfires scream fall. Cookies smell of overwhelming sweetness and chocolate. And the salty turkey legs slowly rotating on the rotisserie are mouth watering just looking at them.
"My favorite thing about it is the kettle corn and the ice cream and everything about it,"  sophomore Presly Bengtson said. "It makes me happy because fall is my favorite season and I love going with family and friends and I love the atmosphere there."
Many can relate to this statement. Something about Vala's projects a joyful feeling.
Even for the workers it's a place that continues to bring smiles.
This is senior Anna Bunik second season working in the sweet shop where she makes the famous Vala's caramel apples.
"It doesn't feel like work honestly at all," Bunik said. "People are so nice and the people who come and are our customers are really nice, it's just pretty great."
She decided to work at Vala's because it would be another job that would be out of the ordinary.
"I already work at the zoo and my mom was like, you know what would be funny if you worked at Vala's since it's like the next thing that's best in Nebraska," Bunik said.
Vala's keeps up with it's fans by continuing to add onto the attractions. This autumn season, there are even more activities that appeal to kids and those who will forever be kids at heart. Vala's now features a mini village, life size piano and a kid-friendly ropes course.
People no longer have to drive into the wilderness to go zip lining. They don't even have to spend hundreds of dollars either. Vala's now has their very own ropes course. Although it may not be 100+ feet above the ground and it only goes across a short span of land, that's enough for the kids who have been utilizing it since it's opening.
The ropes course and zip lining seem to have the focus for many kids, but the fan-favorite attractions are still quite popular for well, everyone.
The train, mesmerizing mine shaft and animal farm are all still hits for the customers of Vala's. The old seems as good as the new to many. The new additions have not left the original ones in the dust.
The cherished pumpkin patch comes to an end on Halloween. For the month and a half it is open, it's filled with smiles, food and fun. On October 31, Vala's leaves the customers anxiously waiting for next fall.