Needles and thread
Junior's passion for sewing creates future successes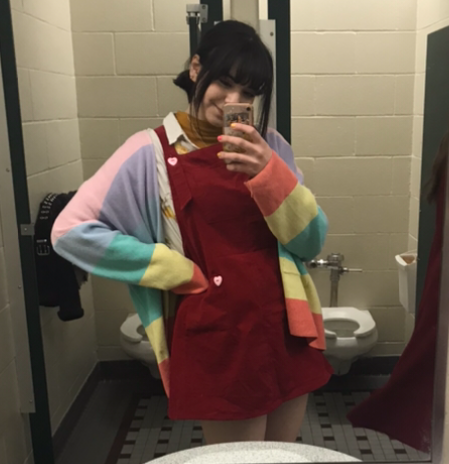 With a sewing machine and fabric, junior Carlie Kottich is sewing herself to her career. Her passion for costume making and sewing drive her to create and design various clothing items and costumes. Kottich dreams of being able to bring her creativity to bigger places and possibly broadway.  
Starting young, Kottich's passion has been apparent all of her life. She started sewing in elementary school as a way to bring creativity into her Halloween costume. Her first completed costume was the character Coraline from the movie Coraline. Ever since then, it has been costume after costume for the young seamstress. 
"My mom was the first to teach me to sew," Kottich said. "She taught me how to hem jeans. I have continued sewing since then and I want to be more ambitious with each project and start to enter my costumes into competitions more."
Influenced by her experiences at a young age, her family supported Kottich's hobby. Long nights and trips to fabric stores involve her family in the creative chaos Kottich loves. 
"Since entering high school, Carlie has challenged herself to make a wide range of costumes and everyday clothing," mother Sarah Kottich said. " I am excited about what the future holds for Carlie."
Coming from a family of quilters, garment makers and musicians, the wild creative process runs in her blood. 
As Kottich gets older, she continues to work on her ambitious projects. She never fails to challenge herself with every new project. 
Friends have observed her passion as she grows as a seamstress. 
 "Carlie is very passionate about sewing and creating," junior Haden Batchelder said. "She always looking for projects she can make and help her friends make projects as well."
The sewing process is definitely a challenging one. Kottich puts hours into her projects which unfortunately have their complications. Although it is a meticulous process, the rewards outweigh the challenges. 
"I spend way too many hours fighting with really bad sewing machines," Kottich said. "It's really challenging but satisfying when you're finished."
Recently, the seamstress attended the State Thespian Festival and entered a costume into a contest. The outfit was for Jasmine from Aladdin. Winning a superior award for costume design, this costume displayed her motivation and dedication to her craft. 
"I was inspired to make the costume when my drama troupe was given tickets to see Aladdin the musical," Kottich said. "I decided to design my own version for the State Thespian Festival because I knew we'd never put on Aladdin and I had the chance to do something crazy."
With a budget of 100 dollars, Kottich was able to create an award-winning costume for 80 dollars that will further enhance her skills and her resume. 
The chaotic experience of sewing keeps the junior on her toes. With her dreams to pursue this hobby as a career, the dedication she is showing now makes her future bright.