Taking on the Capital
Journalism students go to convention in DC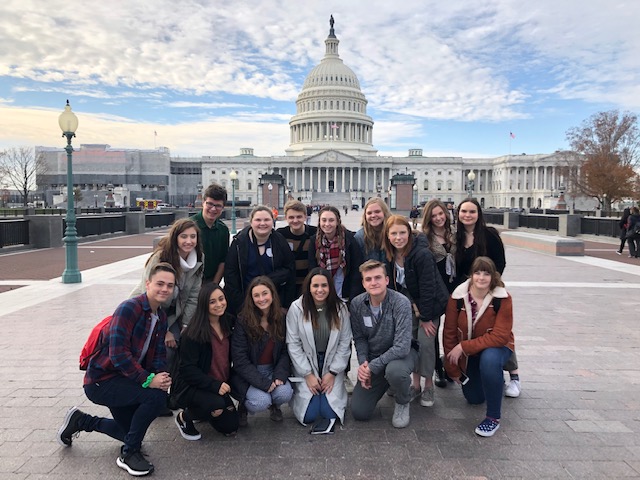 From November 20th to the 24th, 15 students from the CATalyst and Prowler Yearbook staff traveled to Washington DC for the JEA/NSPA Fall National High School Journalism Convention. They competed in the competition of their choice along with attending break-out sessions.
Out of 14 Advanced Journalism students and one Yearbook student, 12 won a national award. Junior Tenley Wright won Superior, the highest award, in Photography Portfolio, senior Kaitlyn Willard won Excellent in News Writing, seniors Logan Bergrenn and Bailey Christensen won Excellent in Broadcast News Story, junior Grace Hager won Excellent in Theme Photo, junior Emma Baker won Excellent in Feature Writing, juniors Natalie Eljamal and Jenna Reynolds won Honorable Mention in Broadcast PSA/Commercial, senior Elizabeth Hahn and junior Jasmine Hermosillo-Padilla won Honorable Mention in Broadcast Feature Story, sophomore Kaitlin Reynolds won Honorable Mention in Yearbook Copy/Captions and Anna Blumenthal won Honorable Mention for Editorial Writing.
"Winning a Superior was unbelievable," Wright said. "After some of the critiques I received on my portfolio I was pretty nervous about the awards and I didn't think I'd get anything above an Honorable Mention. I think I kind of realized that the work and practice I put into improving my photography is worth it."
Along with the individual awards, The MWHS Wildcat News program received sixth place in the Best of Show contest. 
"Receiving the Best of Show award for the broadcast helps to reinforce the good storytelling that students are doing everyday," journalism adviser Mark Hilburn said. "To place sixth nationally also helps reinforce that we are one of the top programs in the country." 
Although the staff arrived in DC on a Wednesday, the competition itself started Thursday night with Keynote speaker and NBC's Chuck Todd kicking it off. Friday afternoon, students attended their competition. Each contest entailed different standards for those competing. While Broadcast and Photography entries were submitted beforehand, those in writing competitions had to compete on the spot. 
"I'm a newbie so I feel like I had an added pressure to 'do good' and prove myself," Baker said. "In the end though, I learned it's more about the experience and the practice that matters the most. I managed to create something I could at least smile about in a limited time and that's awesome. The feature competition was over a very interesting man. It was exciting to weave together something about a philosophy major turned doughnut shop owner."
On Friday and Saturday morning, students attended breakout sessions to further their learning in the journalism field. With sessions from sports, to media, to how to cover environmental issues in the paper, students picked which ones they felt would enhance their journalism skills the most. 
"I chose to go to as many social media break-out sessions as I could at the convention," Hermosillo-Padilla said. "This gave me the opportunity as a social media manager for the newspaper to learn what makes a successful Instagram account operate and how to engage a larger audience." 
After breakout sessions, the staff went sightseeing around DC. They saw Newsies the play, explored the Newseum, which is closing December 31st, and went to multiple memorials including the Lincoln Memorial, Korean War Memorial, Vietnam War Memorial, Martin Luther King, JR. Memorial and the Washington Monument. They were also able to tour the Capitol Building, Library of Congress and Supreme Court Building. 
"This was my first time going to DC and all the monuments were amazing," Bergrenn said. "They look nothing like they do in pictures, it was just so much more meaningful to see them in person. It was interesting to go to the different government buildings. Just being in the Supreme Court was crazy. So many vital moments have happened in the very courtroom."
JEA/NSPA holds two competitions per year: the Fall Convention and Spring Convention. Both are the largest gathering of student journalists in the United States. While these journalism students took home nine national awards, they also took home memories of the trip.
"DC was a good bonding experience for the journalism team because we all got to see a different side of each other that we don't see in class," senior Olivia Oeth said. "It made us more comfortable to speak our minds when we have different opinions."
As students returned to the newsroom, the took the knowledge from DC and implemented it throughout the class.
About the Writer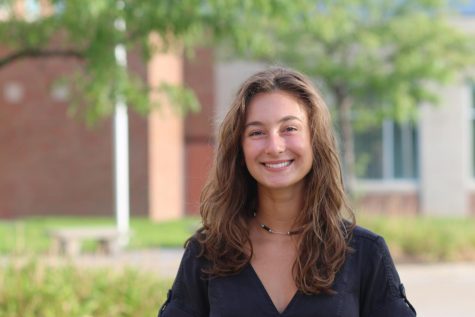 Kaitlyn Willard, Catalyst Editor-in-Chief
Katie is a senior and this his her third year on the CATalyst staff. For the past two years, Katie has served as Features Editor. She enjoys writing and...