Climate plans for the future
Democratic candidates release environmental plans ahead of 2020 election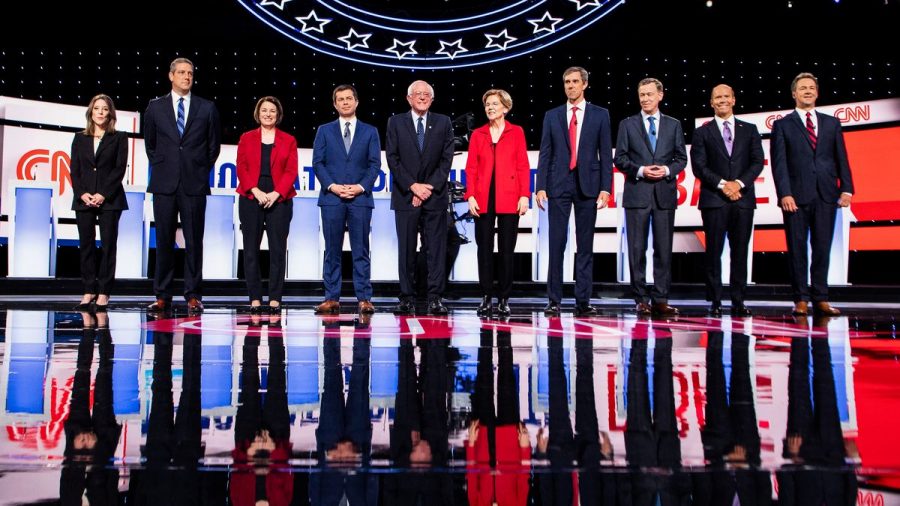 Climate change has quickly become one of the main focuses of the 2020 presidential race. Among young people particularly, the issue is one many are prioritizing when choosing between candidates. According to a Harvard University Institute of Politics poll, more Millenials and members of Gen Z plan to vote in 2020 than 2016 and many of them listed climate change as a top priority. 
Considering how interconnected climate change is with all of this generation's big problems, the shift in the political environment is necessary. Most candidates have realized that simply announcing that they believe in human-made climate change is no longer enough for most voters. As a result, all of the leading Democratic candidates have released proposals in the last few weeks for how they plan to fight the global catastrophe. 
There are a lot of commonalities among the top 10 candidates' plans. They all agree on the need to reach zero net emissions by at least 2050, though exactly when and how differs pretty widely. Most of them have said they would recommit the United States to the Paris Climate Agreement since President Trump withdrew from it in 2017. They all agree with at least some aspects of the Green New Deal, which is a proposal for a more sustainable economy introduced in Congress in February that many of the candidates' plans are based off. 
There are also many differences among the plans. Investment proposals, executive action, and fossil fuel bans are some of the key distinctions. Candidates have different ideas for where the money will come from, with some relying on carbon taxes and others suggesting taxing the wealthy. Bernie Sanders has the most expensive plan at over 16 trillion dollars whereas some other candidates go as low as 2 trillion. Sanders, Warren, Booker and Gabbard support banning fossil fuel exports which has become a controversial point as the US threatens to overtake Saudi Arabia in oil exports. 
Each of the candidates included points within their plans that would make them stand out against the wave of climate proposals. Here's a brief overview of the good, bad and unusual in the climate plans.
Joe Biden
Biden used legislation established as former President Obama's VP in his proposal and has leaned on his track record for passing environmental regulations. He is largely seen as the "middle ground" candidate who is trying to compromise with conservatives. His investment plan is one of the lower ones at less than two trillion dollars. Compared to other plans, his clearly does not go as in-depth as it needs to.  
Cory Booker
Booker focuses on environmental justice and ensuring that marginalized communities, like the city of Newark which he previously served as mayor of, are accounted for. His investment plan of three trillion dollars would be paid for by a carbon fee, but he doesn't get into the specifics. In general, his plan is vague and lacks a lot of details. However, his proposal for an Environmental Justice Fund is refreshing and necessary, as is his overall focus on climate justice. 
Pete Buttigieg 
Buttigieg suggests unique new government positions like a Climate Corps and a Climate Watch Floor in the Defense Department. His plan tends to lack detail in a lot of places, and his timeline for zero emissions by 2050 is not ideal considering that the Intergovernmental Panel on Climate Change has said that we need to eliminate emissions by 2050 at the very latest. However, he does promise a carbon removal industry and zero emissions on transportation by 2040. 
Julian Castro
Castro ran with his position as the "immigration candidate" and included plans to establish climate refugees and a program to relocate people living on low-lying lands which could be underwater soon. He also leverages his former position as the HUD secretary and tackles poor infrastructure in his plan to address the lack of clean water in generally poorer communities like Newark and Flint. His focus on equity within marginalized communities is very necessary, and his high investment plan of 10 trillion dollars will help him fulfill his promises. However, he lacks some of the aggressive policies that other candidates are bringing (particularly the harsh regulations on companies' use of fossil fuels). 
Kamala Harris
Harris was one of the last to release a plan. She leans on existing climate legislation she passed as California's attorney general, such as the Climate Equity Act she co-sponsored. She specifically states that she will set aside 30% of public US land and water for conservation, but other than that she hasn't done much to set herself apart. 
Amy Klobuchar 
Klobuchar expressed the need for immediate action and promised to rejoin the Paris Climate Agreement on her first day in office. Her plan also leans very heavily on the Green New Deal even though she doesn't accept all aspects of the plan. Her plan also has one of the lower investments at two trillion dollars (with an additional one trillion in bonds). Her plan does not stand out at all and is one of the least aggressive ones. 
Beto O'Rourke 
O'Rourke was one of the first to release a comprehensive plan. It is unique because it includes a federal permit account for impact from climate change. It also stresses the need to work with Congress to pass legislation which could slow down the progress but will ultimately make it more long-lasting. No matter how good his plan may be, it is difficult to ignore that his actions during and before the 2018 Senate race don't reflect his promises. He consistently voted to lift restrictions on fossil fuel exports and refused to sign the No Fossil Fuel Money pledge for months. Jay Inslee, the "climate candidate" who recently dropped out of the race, referred to O'Rourke's plan as "empty rhetoric" that doesn't match up with his actions which couldn't be more true. 
Bernie Sanders
Sanders, one of the more progressive candidates, has an aggressive climate plan that uses his proposal for taxing the wealthy to establish the most expensive investment at over 6 trillion dollars. He also addresses the original New Deal's racist and sexist roots and has more community-based ideas like expanding public and employee-owned grocery stores. However, he has made his opposition to nuclear energy clear, which is a very controversial issue that some say may hurt the effort to stop emissions. His plan goes in-depth and is not vague like many of the others, though it may cause problems for him when trying to pass climate legislation in Congress because many members are strongly opposed to his radical proposals. 
Elizabeth Warren
Warren's campaign motto is "I have a plan for that" and this is well reflected in her climate plan. She has proposals for eliminating drilling on offshore and public lands, decarbonizing most of the US military by 2030, making companies disclose their climate risk, creating a green manufacturing boom, and more. As a congressional member, she has focused on eliminating corruption and lobbying from the fossil fuel industry within Congress. She also worked with Jay Inslee, the "climate candidate" who dropped out of the 2020 race in late August. While this does give her more credibility, her plan does not address foreign climate policy enough and could lead to the US unfairly profiting off of less developed countries who are hard hit by climate change. 
Andrew Yang 
Yang built on his background as a tech entrepreneur and called for investments into new, sustainable tech like geoengineering (which has been criticized). He also stressed the need for a Universal Basic Income program which he says will help everyone deal with the economic effects of climate change. His focus on investing in new technology is questionable considering he doesn't get very specific about where the money would come from. 
Overall, the climate plans are all much needed given the urgency of the situation, but that doesn't mean they're all good or that they will deliver. The president needs congressional approval to spend the trillions of dollars that are being promised. Considering that there are currently 150 members in the current Congress who don't believe in human-made climate change, according to the Center for American Progress Action Fund, it may prove difficult to pass any climate legislation. That is why it is equally critical for us to give this type of energy during congressional elections. No matter how climate-focused future presidents may be, they ultimately won't be able to accomplish much without a supportive congress. 
Youth climate activists are largely responsible for pushing climate change to the forefront of the 2020 election and demanding that candidates put out detailed plans and environmental stances. Even though they may be too young to vote, many teens are still playing a very active role in the election. For example, the Sunrise Movement, a "movement of young people fighting to stop the climate crisis", is one of the leading organizations behind the Green New Deal and the recent democratic climate debates. While political figures have a lot of responsibility and power in this fight, it is everyday teenagers who have mobilized to create this historical momentum. As young people, we need to recognize our own power and understand that we have a pivotal role to play in securing our future and the future of our planet.
About the Contributor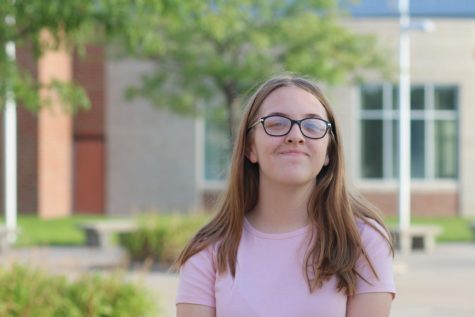 Morgan Weir, Staff Reporter
Morgan is a sophomore and is on her first year being a part of the journalism staff. She most enjoys writing Opinion and Feature stories. Outside of school...