Welcome to the club
Newly opened restaurant offers guests delicious food and a trip through the past
Hang on for a minute...we're trying to find some more stories you might like.
Different. In today's day and age that's all, anyone or anything is trying to be. In the heart of downtown Omaha, this aspect is heavily seen in the various businesses that line the bustling brick streets of the Old Market. Businesses that advertise the same product or food must come up with creative ways of differentiating themselves from their competitors. This is exactly what The Monster Club has done with its horror movie and music-themed restaurant. 
At first glance, one might be slightly taken aback by the large green hands holding on to the left and right sides of the building, as it suggests whatever lies inside may be slightly chilling. The bold, gold lettering on the front of the building also helps this restaurant stand out to passersby on Howard Street. 
However, after entering, I found that this restaurant is nothing near terrifying. Rather, my fellow reporter Annalise and I were absolutely in awe of the decor that lined the walls of this restaurant.
At the entrance, we were greeted by one of their hostesses who escorted us to the coffin-shaped table where we would be dining. This was when we really got to take a closer look at all of the posters, props and statues that help make this restaurant stand out amongst others. After closer investigation, we discovered that all of them are from horror movies of the past. Some of the titles that cover the brick walls are Black Sunday, Godzilla, Halloween and a plethora of other movie titles. 
In addition to the old film posters, there are statues of various horror movie characters placed throughout the restaurant that greet guests as they are led to their table. At the front of the store, resides a large statue of Frankenstein. The creature is incredibly detailed, with his beard made from real hair and then shaved to have the effect of stubble, and seems as if it could come to life at any given second. Towards the back of The Monster Club lies another statue of a famous horror movie character known as Pennywise. This statue makes sure guests seated in the back aren't left out of the horror movie experience.
What amazed us, even more, was that all of the decor was from the owner's
personal collection. Owner Mike Howard has been collecting ever since he was young and uses this restaurant to display his collection. The two statues are from Hollywood and are valued at over $30,000 dollars. There are even more posters that are stored in a large warehouse and are switched out periodically.
After being wowed by the sheer history behind this place, we finally arrived at our table. We were given our menus and, because of previous menu examination prior to arriving, we placed our orders early. My fellow reporter Annalise, ordered The Evil Clown burger which consisted of a hand-shaped beef burger, lettuce, pickles, red onions and gooey American cheese on a toasted bun. She also ordered a side of crispy fries and their secret Clown Sauce that complemented the fries nicely. My order followed shortly after and what was presented to me was absolutely mouthwatering. I ordered the Basil Pesto Portobello Sandwich, and since I personally cannot have dairy, this vegan option was extremely relieving to see on a menu. It consisted of grilled mushroom (to substitute for the beef), basil pesto with tofu, vegan melted mozzarella cheese, and sat upon a toasted whole wheat bun. I completed this dish with a side of perfectly cooked sweet potato fries, as well as their signature secret sauce. From there I inhaled the sandwich and fries within 10 minutes and felt satisfied with my meal soon after.
With our bellies full and hunger satisfied we paid our checks, which came to be around $14.58 and made our way to the exit. However, before we could even reach the door handle, the current manager asked if we would be interested in seeing the music-themed lounge upstairs. 
Of course, we had to take a peek after being amazed by the content of the first floor. 
We were then led up a flight of stairs that opened up to the Drastic Plastic Vinyl Lounge. There, we discovered a large rectangular room filled to the brim with vinyl from all genres of music. There was a large seating area where customers can enjoy food and drinks while also listening to music. Lining the walls of this room are various other posters that are also from the owner's personal collection. This upstairs room was my personal favorite and had me in awe the entire time spent gazing at the timeless posters. 
As one can see, The Monster Club is truly the definition of different when it comes to the 21st-Century restaurant industry. This experience felt like I was being taken through a museum of Hollywood horror while also being able to enjoy a high-quality meal. Overall, The Monster Club is definitely worth the drive to get to experience, and taste, all that this restaurant has to offer.
About the Writer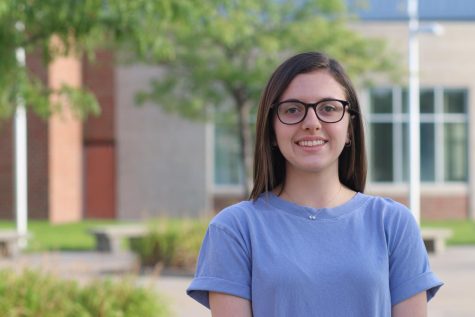 Chloe Parker, Staff Reporter
Chloe is a junior and in her second year of Advanced Journalism. She has enjoyed writing from a young age and loves being able to tell the stories of students...