Nutrition 402
The new picture perfect juice bar for teens to hangout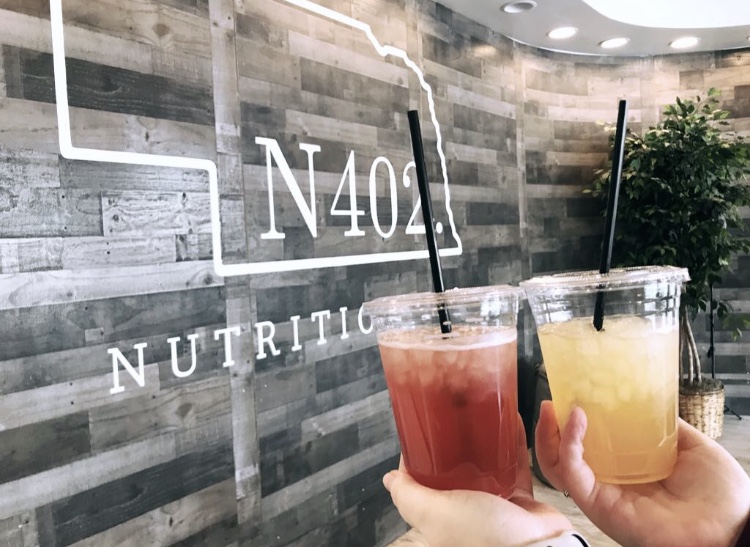 Nutrition 402 is a juice bar and smoothie shop that just recently opened on Feb. 13 in the K Plaza. Teens have discovered this place an turned it into a trendy spot to not only get a healthy drink, but to also enjoy the farmhouse decorations.
The tea menu consists of three levels. The first level is a simple flavored tea with your choice of three fruity aloes to add in. They also have a second level allows you to add one more ingredient such as Tropical LO and Orange LO. The third level allows four ingredients with a beauty booster. These different ingredients are supposed to improve your mood and give you different bursts of flavor.
The shake menu is full of delicious and strange flavors. They have nine categories for shakes including vanilla, coffee, fruit, peanut butter, banana, dulce de leche, chocolate, cookies & cream and mint. They have many different flavors under each of these categories. You can even add boosters to your shake such as active fiber, probiotic, rebuild, proplessa and new mom. The shakes are only 200-300 calories and are lactose free.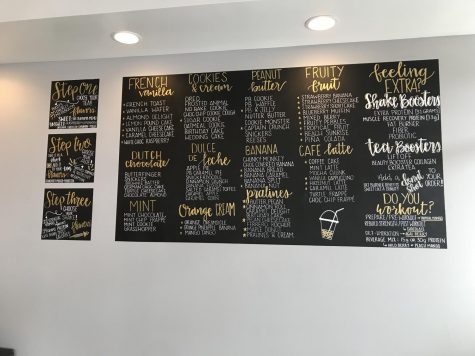 When you first walk into Nutrition 402, you are immediately greeted by the baristas behind the counter. If it is your first time at this juice bar, the employees will help you understand how your menu works. They work fast and efficiently. Nutrition 402 has a great marketing strategy which allows you to get one dollar off of your purchase if you post about them on social media, which is a deal that definitely attracts teens.
The tea that they make is full of flavor and not watered down. They put so much ice in it, but the drink fills most of the cup. Places like Starbucks put way too much ice in their drinks which is frustrating, because it makes it look like you have more of your drink when you really only have a little bit more than half of your drink. Nutrition 402 doesn't do that. The tea is supposed to act as your healthy drink for a meal.
Nutrition 402's shakes replace the food that you would eat in a meal, which means you get to drink the same amount of nutrition. One thing I disliked about their shakes is that they are very chalky, but that comes with many protein shakes. You do get the full flavor from your shake. Each shake is topped with a little decoration piece. They can add sprinkles or graham cracker crumbs that make the drink that much more pleasing to look at.
This new juice bar has a modern farmhouse feel that has many perfect photo spots. This place definitely represents Nebraska with all of their little Omaha base decorations. One of their photo famous photo spots, that is featured on many people's Instagram stories, is a big mural of Nebraska's shape with their logo inside of it.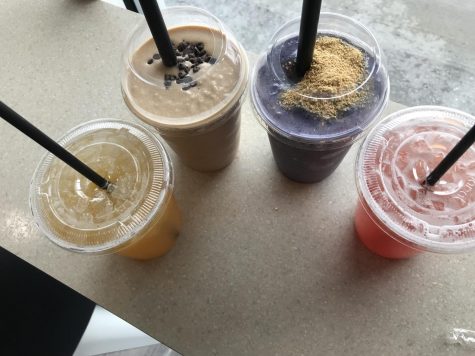 I had chosen the Maverick tea, which contains raspberry tea, berry pom LO and cranberry aloe. It had a tangy taste similar to a fruity popsicle. I thought it was delicious and I was happy with my purchase. For the shake, I chose Fruity Pebbles. It had more of a subtle sugary flavor than fruity, which I honestly didn't mind. The look made it ten times better since it had graham cracker crumbs and a purple color to it. A downside to my experience was the powdery texture of the shake. It wasn't appealing to me.
Nutrition 402 as a whole was a wonderful experience. The employees were generous and helped everyone when they could. The process was quick and there wasn't much waiting around. This trendy new spot has many interesting drinks with endless flavors. Their concept is very original. I would definitely recommend this place to everyone.
About the Contributor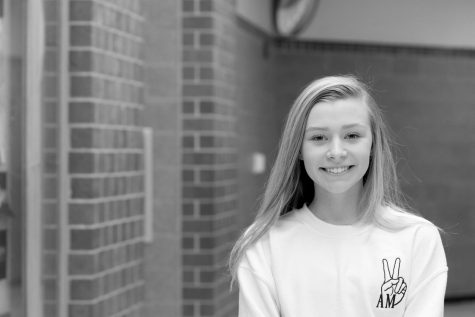 Isabella Nilsson, Staff Writer
Isabella Nilsson is a sophomore and this is her first year of Advanced Journalism. She likes doing stories about student life and taking pictures. She...