Wildcats take over the Catwalk
Developing models shine in the spotlight at Omaha Fashion Week
Blinding lights and cameras flashed as 65 different designers had the opportunity to turn their sketches into a reality. Teenagers across Omaha showcased original designer outfits in front of over hundreds of viewers at the Omaha Design Center on February 25th through March 2nd, allowing developing models to finally get their chance to strut along the runway. 
Omaha Fashion Week has grown into the nation's fifth largest fashion event, as it provides an outlet for more independent fashion designers than anywhere else in the midwest. The glamorous red carpet event allows the connection of designers, stylists, photographers, models and artists as they bond through their love of fashion and art. It serves as a great learning experience for designers as they are given a professional platform to showcase their work, no matter what experience or age level.
For each of the seven days at Omaha Fashion Week, a specific theme is held each night. Outfits followed the themes of bridal night, high school, UNL, and even a cancer theme where current cancer patients and survivors got the opportunity to model outfits while holding the hands of their family members. In order to model in Omaha Fashion Week, models have a try out in front of professionals who chose their pick of models for certain designs.
"To be in Omaha Fashion Week there are auditions held in Omaha and Lincoln," junior Sydney Macnamara said. "Over 300 girls and boys were crammed into lines, which had a waiting time of over three hours, just to get the chance to try out."
After being chosen to model in Omaha Fashion Week, models had a month to prepare their walk and posture in order to find success on the runway.
"Your first time walking on stage is frightening," junior Lauren Schoening said. "All the attention is purely on you, which is completely nerve-racking. I'm lucky enough to have some amazing people who are extremely supportive and helped me learn proper techniques leading up to the event so I was confident in myself when the time came to perform."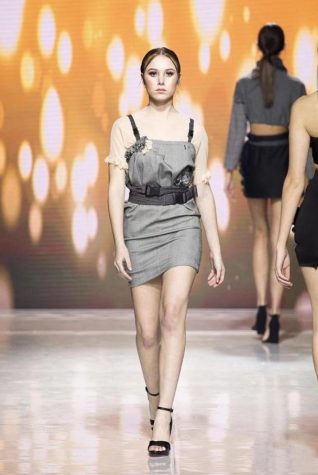 Several students have had a modeling background that had prepared them for Omaha Fashion Week. Most students are involved in developing model companies where they learn the proper techniques and the ins-and-outs of modeling.
"My family has had a background of modeling," senior Isabella Tarr said. "One day, around the age of 13, I was brought in by my mother to an agency to sign me up. Believe it or not my first real job was performing in a Taco John's commercial. I then performed in the Omaha Fashion Week and I've been doing it ever since. I've done six seasons and I love it more every time."
While modeling may seem like a dream, there are a few obstacles models must tackle and overcome during the shows.
"The clothing never truly fits well," Tarr said.  It can be made of uncomfortable material that scratches or even cuts. I've had to be sewn and taped into garments. Lots of models are terrified of tripping, a fear that is amplified when you are wearing an ill-fitting, floor length dress with six inch heels."
The clothing at Omaha Fashion Week is creating by designers who use models to display their collection creations.
"One of the best parts of Omaha Fashion Week is displaying clothing items that you'd never have another chance to on a daily basis," Schoening said. "I've seen people wear ridiculously long hair extensions that drag on the floor and elegant dresses that you'd most likely see at a wedding. Although the clothing is very abstract, being able to wear some different styles of fashion statements is definitely a pleasure."
Not only do the students enjoy the whole process of modeling, they also create long-lasting relationships throughout the process.
"I've gotten to know new people throughout these years, having them by my side every step of the way," Schoening said. "These people range from girls my age who model for the same company as I do to the designers who create these great pieces for me to try on. I've overall gotten the chance to meet new people who will have taught me new life lessons and drove my love for modeling. I hope these are new things I can take with me into the future."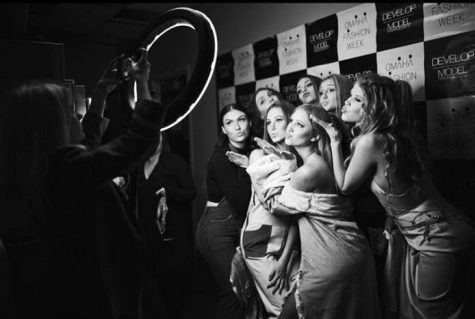 More than just modeling, Omaha Fashion Week serves a great cause as it allows an opportunity for those who seek it. Omaha Fashion Week is a great outlet for learning designers and student models who all have the same love: a passion for fashion.
About the Writer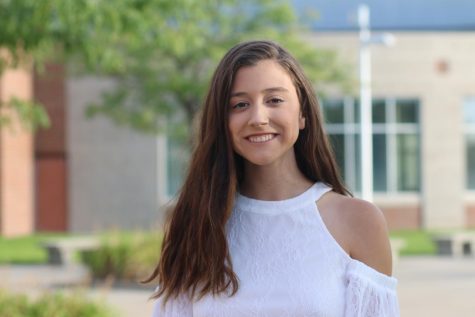 Bailey Christensen, Assistant Broadcast Editor
With her second year on staff, Bailey takes on her senior year representing the Millard West Catalyst and MWHS Wildcat News. She enjoys playing lacrosse,...