A Spin on Voting
Hang on for a minute...we're trying to find some more stories you might like.
Prom can be a magical night for most students. Girls spend hours getting ready with their friends and they shop for days to get the perfect dress. The anticpation of couples getting asked to Prom, and the excitement of everyone dancing all night is all part of a perfect Prom. For many, being Prom royalty would make the night so much more special, but this year voting has changed.
Junior Class Board Sponsor, Megan McEnaney, is in charge of finding the perfect way for students to vote for Prom queen and king. This year students can only vote for one classmate instead of three, but in addition, teachers are allowed to vote.
"We opened voting up to teachers so that we could get representation from the classroom as well," McEnaney said. "In addition, we added a strong connection between royalty and our mission here at Millard West with PBIS, or Positive Behavior Interventions and Supports, and Style and Pride"
Students vote through a Google Forms sent through email to all juniors and seniors. Millard West normally have 200-250 students per grade level voting. There are no strict guidlines to become Prom royalty, they don't have to have any certain grades, they just have to be a junior or senior at Millard West.
"Their classmates nominate them and then we will count the students with the highest number of votes and this will create the Prom court," McEnaney said. "There are 20 students total; five girls for juniors and seniors and five boys for juniors and seniors."
Junior Class Board Presidents Sarah Fueker and Nicole Paulsen make Prom a magical night for everyone. They help McEnaney put together the idea of adding teachers to the voting pool, and they wanted to add the #BeKind campaign into voting for both dances, Homecoming and Prom.  
"We think that including teachers is a great idea because then the students who are Prom royalty show the #BeKind campaign in the classroom," Fueker said. "They are respectful to the teachers and respectful to their peers also."
All the anticipations was leading up to the announcement of the winners around 10p.m. on Prom night. The winners are given crowns and sashes in front of the whole Prom.
Unlike Homecoming, they don't announce the nominees at any football games, the Prom royalty have to wait for that night to see if they are chosen.

About the Writer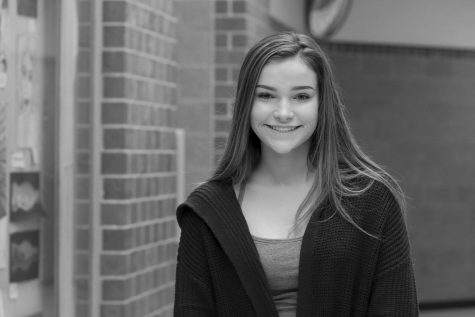 Macey Wahl, Staff Writer
Macey is a sophomore and this is her first year in Advanced Journalism. Macey enjoys writing about interesting students and loves taking photos. She is...